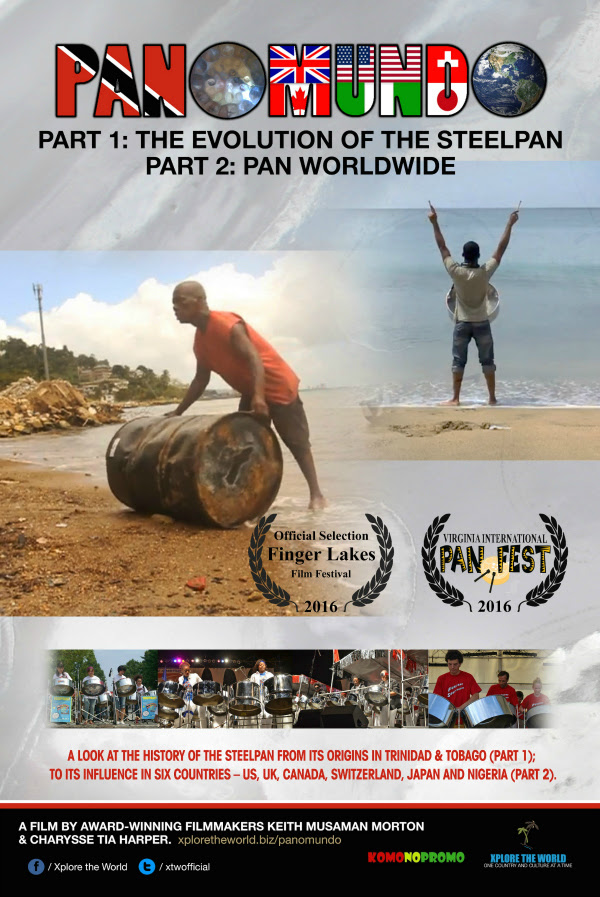 The New York City Premiere of Panomundo Part 1: The Evolution of the Steelpan will take place on Sat., June 25, 2016, at 2:00PM at ARTs East New York in Brooklyn. There will be a Q&A session with filmmaker Charysse Tia Harper following the 42-minute documentary. This event is in partnership with a Take Stock Inc. initiative called "Evolution of Steelpan" (EOS).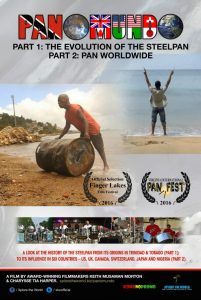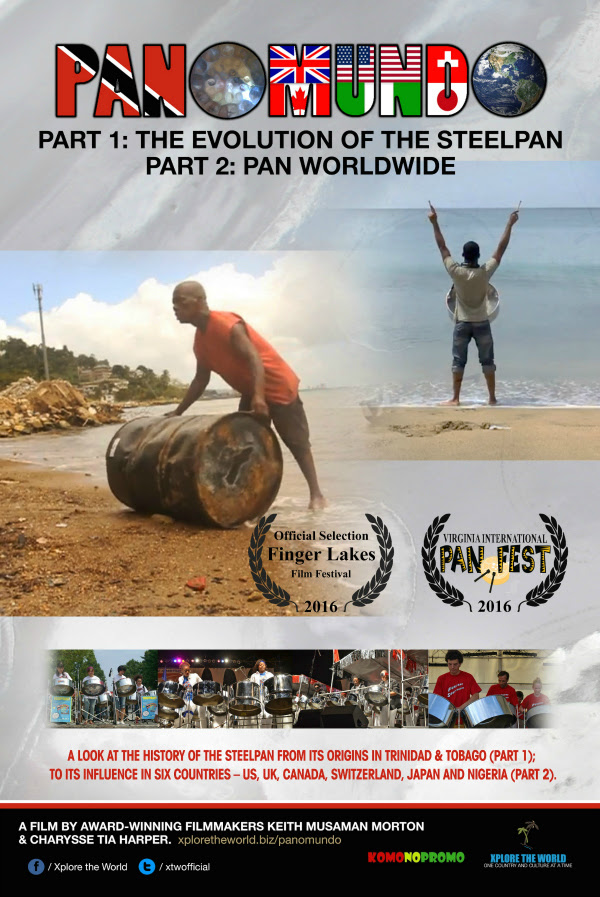 "This is a very exciting time for us," explains Harper, one-half of the filmmaking team. "We filmed the majority of the US portion of [Panomundo] Part 2 [Pan Worldwide] in Brooklyn and it is our pleasure to introduce the documentary to the community."
Harper, along with British filmmaker Keith Musaman Morton, have spent four years making Panomundo: a feature-length documentary told in two parts about the history of the steelpan and its global influence. Part 1 focuses on the inception of the steelband in Trinidad & Tobago until its international recognition and Part 2 looks at the instrument's influence in six countries: Canada, Japan, Nigeria, Switzerland, United Kingdom and the United States. This section is currently in post-production with an anticipated release later this year.
Part 1 premiered in August 2015 at the British Film Institute's We Love Carnival Screenings in London. From there, it was shown around the United Kingdom until having its US premiere at Finger Lakes Environmental Film Festival in Ithaca, NY, in April 2016 and again screening at Virginia International PANFest in May. View the 2-minute trailer.
"We purposely chose June to have the New York City premiere because it is Caribbean Heritage Month and what better way to get more eyes on this film?!" asserts Harper. "This is also a way for the bands we interviewed to see an introduction into the history before they see how they have assisted in continuing evolution of the instrument."
In addition to the film screening, Take Stock will present "Evolution of Steelpan" (EOS), a traveling production that provides information about music and culture's immeasurable ability to influence society. The offering debuted in Miami in April 2016. The production primarily focuses on the steelpan (steeldrum) and its role in Caribbean culture. "EOS" aims to highlight notion of music as a kind of auditory allusion that transcends time connecting the universe. For this New York City premiere, "EOS" will showcase historical still images, live steelpan and guest speaker Dr. Kim Johnson, The Carnival Institute of Trinidad & Tobago.
The event runs from 2:00PM to 4:30PM on Saturday, June 25, 2016, at ARTs East New York (534 Livonia Ave. Brooklyn, NY 11207); nearest subway exits are Junius on the 3 or Livonia Ave. on the L. It is FREE and open to the public with a suggested donation of any amount. Donations will be used to support the post production of Panomundo Part 2: Pan Worldwide and the "Evolution of Steelpan" (EOS) national tour.