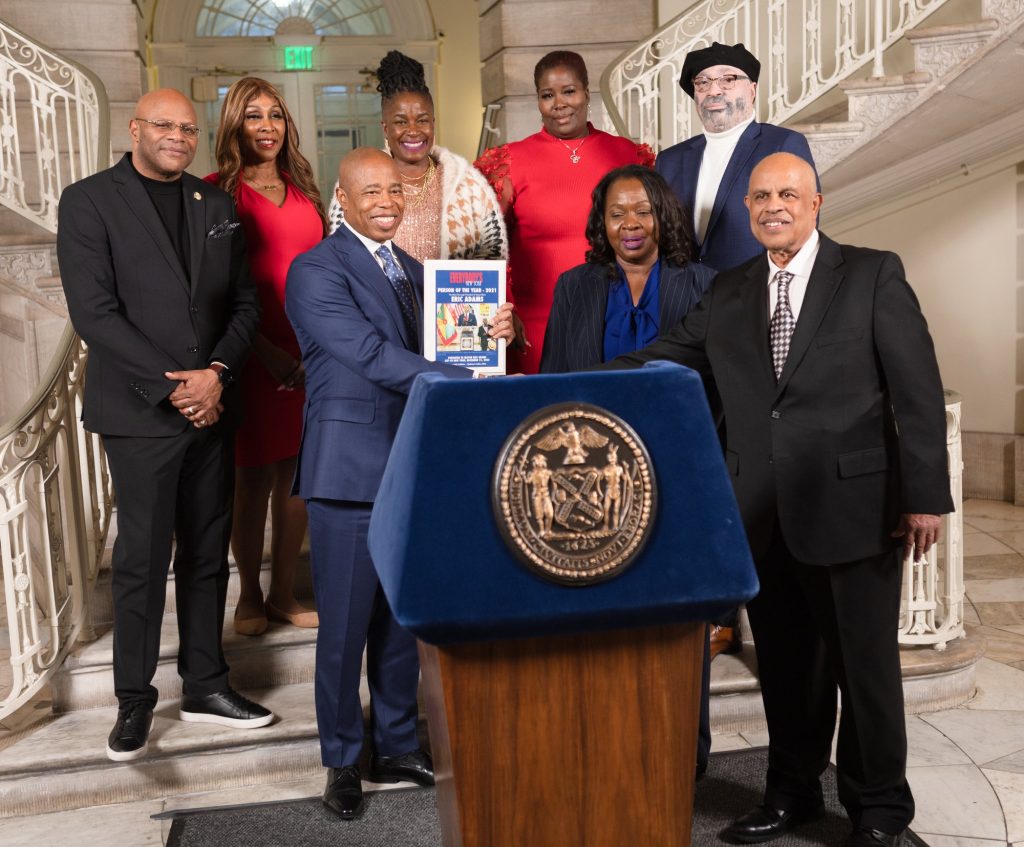 (L to R) Mayor Eric Adams listens to remarks by Herman Hall, Publisher of the 45-year-old Caribbean-American magazine, and Judge Sylvia Hinds-Radix and Corporation Counsel for the City of New York .  2nd Photo: Mayor Adams displays 2021 EVERYBODY'S Magazine Person of the Year plaque and Herman Hall
City Hall, New York, NY – December 21, 2022
Remarks by Herman Hall Presenting 2021 Person of the Year Award to New York City Mayor Eric Adams
Announcing Prime Minister Dickon Mitchell as 2022 EVERYBOODY'S Magazine Person of the Year
Mayor Adams, on behalf of EVERYBODY'S, the Caribbean-American magazine, we wish you, and all New Yorkers, Happy Holidays.
We know it is not an easy task to lead the greatest city on earth and to have the 2nd most demanding job in America. During your almost 12 months in office, you have addressed the most burning and controversial issues in our city and nation with great alacrity. This magazine, primarily an immigrant one, applauds you for aiding migrants from the southern border and the dignity you have afforded them. Yet, we know it is a tremendous strain on your budget.
Mr. Mayor, on February 6, 2020 (I may add Bob Marley's birthday), as Borough President, you recognized the 46th Anniversary of Grenada's Independence. At the ceremony, and perhaps the last time we may have seen him, our friend Roy Hastick, founder of CACCI, warned guests that they would have to cross the bridge into Manhattan if they wished to see you, effective January 1, 2022. Hastick boldly proclaimed that you would be our next mayor. We embedded the photo of you and Roy at the flag-raising event in your Person of the Year plaque in memory of Roy's foresight.
Even before you were elected Mayor on November 2, 2021, many EVERYBODY'S readers were nominating you as their Person of the Year.
This EVERYBODY'S Magazine Person of the Year Award was possible because the late John H. Johnson, founder of EBONY and JET Magazines, encouraged me to establish EVERYBODY'S Magazine at an EBONY Fashion Show held at Brooklyn College in the mid-1970s.
Finally, Mr. Mayor, as we celebrate Martin Luther King Day next month, Black History in February, and Women's History in March, your Person of the Year Award is in tribute to "The Father of Black Journalism," John B. Russwurm. As a pathbreaker like you and Mayor David Dinkins, Russwurm founded America's first Black newspaper, Freedom Journal, on March 16, 1827, which catapulted more African American voices into the public debate setting the stage for the ongoing struggle for equity and social justice for all.
I now ask Judge Sylvia Hinds Radix, longtime EVERYBODY'S reader, fan of my history books and attendee at the magazine's Oliver Samuels plays, reggae, and calypso concerts, to present you EVERYBODY'S "Caribbean" Magazine Person of the Year Award for 2021.