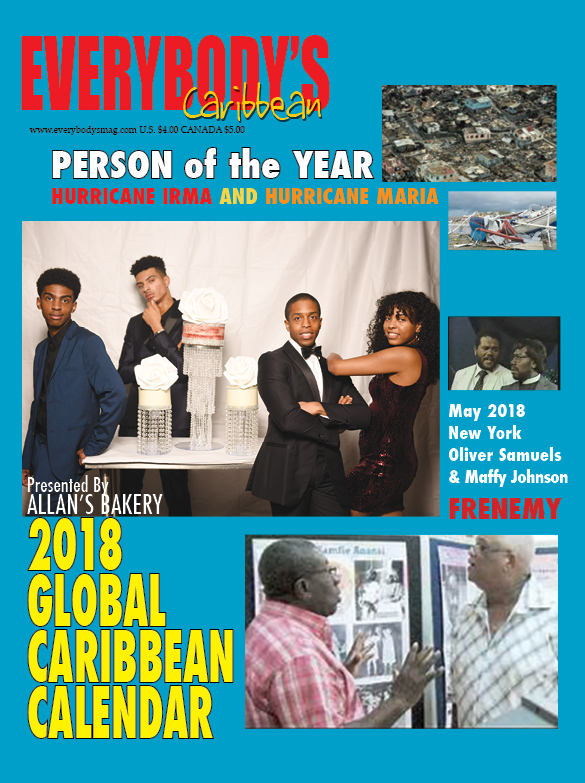 HURRICANE IRMA AND HURRICANE MARIA EVERYBODY'S PERSON OF THE YEAR
IN THIS EDITION:  2018 GLOBAL CARIBBEAN CALENDAR          
2017  HIGHLIGHTS/2018 PREVIEW
    Hurricane Irma and Hurricane Maria, the two mega, Category 5 hurricanes of 2017, are EVERYBODY'S Magazine Person of the Year. It is the first time the 40-year old Caribbean-American magazine selected a phenomenon as its Person of the Year.
It can be said that the numerous and ferocious hurricanes of 2017, Usain Bolt failing to win his final track and field races and Trinidad & Tobago knocking out the U.S. from entering FIFA World Cup in 2018, were the major 2017 headlines in the Caribbean and within Caribbean communities overseas.
Previous EVERYBODY'S Magazine Person of the Year includes Nobel Laureate Sir Arthur Lewis, Congresswoman Shirley Chisholm, Prime Ministers Patrick Manning, Eugenia Charles, Tom Adams and Baldwin Spencer, The Mighty Sparrow, Olympian and WNBA player Tina Charles Olympian Kirani James and former West Indies cricket captain Clive Lloyd.
A detailed commentary about Hurricane Irma and Hurricane Maria as EVERYBODY'S Person of the Year is in the magazine's 2018 Global Caribbean Calendar edition. The calendar provides the date of major events in the region and diaspora from London's Notting Hill Carnival and Toronto's Caribana to Grenada's Fisherman's Birthday. Independence Day of each Caribbean and African nation is also listed.
"Maria and Irma may well have affirmed Atilla the Hun's classic calypso recorded in New York City in 1935, 'Woman Is Not The Weaker Sex' and Denise Plumber's 1988 calypso 'Woman is Boss'.  Hurricane Maria and Hurricane Irma showed their male counterparts, Hurricanes Harvey, Lee, Jose and Bret, who is really the boss and the stronger sex," the magazine wittingly states.
The commentary continues, "Like humans, hurricanes have good sides and bad sides. Thanks to the hurricane of 1772, (hurricanes were not given names then) the U.S. got one of its Founding Fathers, Alexander Hamilton. More than two centuries later, Broadway produced undoubtedly its most successful musical play ever, "Hamilton," based on the life of Alexander Hamilton. Born in Nevis and working in St. Croix, eighteen-year old Hamilton brilliantly described in the newspaper the hurricane destruction of St. Croix …"
EVERYBODY'S observes: "The handwriting is on the wall in that Caribbean governments can no longer expect the U.S. to eagerly and generously help them in time of natural disasters. Evidently regional leaders have not got the message yet because …"
The 2018 Global Caribbean Calendar presented by Allan's Bakery, 2017 highlights and the entire commentary/essay about Hurricanes Irma and Maria as Person of the Year can be ordered from www.everybodysmag.com; (718) 941-1879.
TO ORDER: click on the homepage: MAGAZINE & SUBSCRIPTION