NY – SUNDAY, SEP 4:
Thousands of Caribbean nationals from the Caribbean, Canada, Europe and across the U.S. are in Brooklyn for one of the largest cultural festivals in the U.S., the annual "West Indian carnival on Labor Day Weekend, where approximately 1.6 million spectators will be on Eastern Parkway to view the carnival-parade on Labor Day Monday beginning at 11am.
The early part of the carnival-parade will be dominated by politicians and trade unions seeking votes since New York State Primary is Tue., Sep. 13th. Moreover, it is a presidential election year. Many politicians will be at the kick-off breakfast on the tennis court under a large tent on Buffalo Ave. The breakfast is by invite only; public officials and sponsors are invited.  Hillary Clinton was at the breakfast and carnival parade four times. Politicians attending the breakfast and walking down Eastern parkway are 99.9 percent Democrats. They are the ones the West Indian-American Day Carnival Association (WIADCA) invites.
For security reasons, EVERYBODY'S Magazine is not revealing the top personalities who will lead the carnival parade. It is public knowledge Mayor Bill de Blasio and wife will dance down Eastern Parkway and will be at the breakfast.
The J'Ouvert begins at 4am and ends around 8am. The start point is Grand Army Plaza, J'Ouvert then moves Flatbush Ave, then to Empire Blvd. At Empire Blvd. it goes to Nostrand Ave. where it ends at Midwood Street.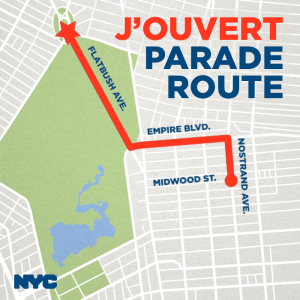 The Panorama held on Saturday night was won by D'Radoes; Pan Evolution and Crossfire came 2nd and 3rd respectively.
(PHOTO): The Mighty Sparrow enjoying a dish of Carnival Pealu, Trinidad style, at Charlie's Records where a free carnival fete is held every Labor Day Saturday.
Want to learn about the origins of the "West Indian" carnival in Harlem and Brooklyn click "Magazine and Subscription."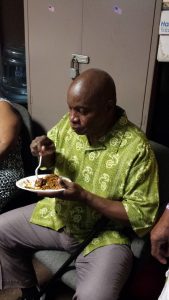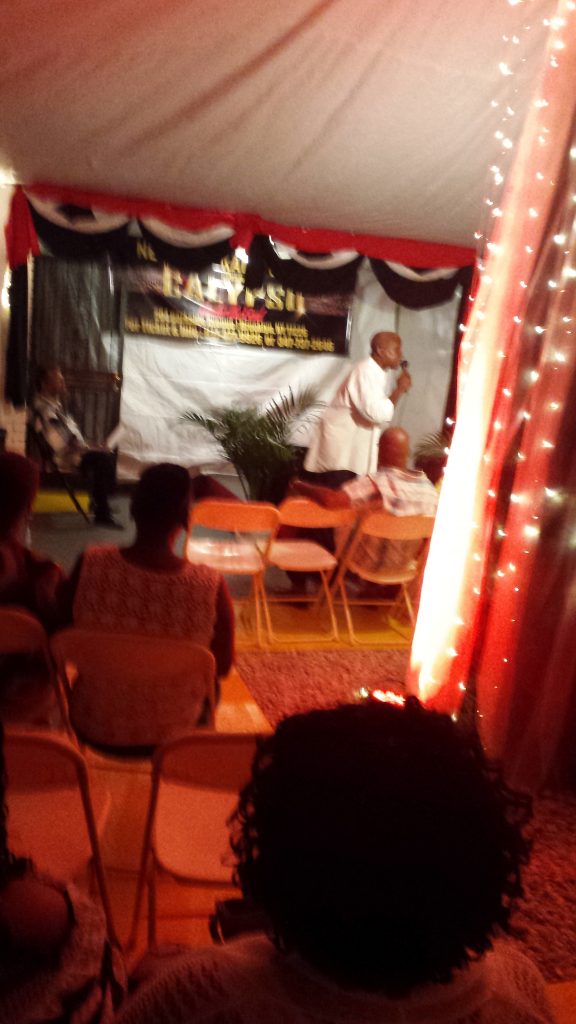 The scene at Derrick Noel Calypso Tent on Labor Friday Night, Fri., Sep. 2.