In a sense, all Caribbean Olympians of 2016 are EVERYBODY'S, the Caribbean-American magazine, Person of the Year. However, we take pride in honoring Usain Bolt of Jamaica and Caribbean-American Tina Charles by proudly proclaiming them EVERYBODY'S Person of 2016.
*The top 2016 Caribbean news highlights are in the year ending issue.
*The complete text is in EVERYBODY'S 2017 Global Caribbean Calendar edition.
*All major holidays and festivals in the region and overseas communities during 2017 are listed.
This is the 38th year EVERYBODY'S named its Person of the Year. Olympian Usain Bolt is the first individual bestowed the magazine Person of the Year title on two occasions, 2009 and 2016.
In 1978, two persons shared the honor, Janelle Penny Commissiong, the Trinbagonian who in 1977 became the first black to win The Miss Universe title and Sandy McArtha Lewis, known as Calypso Rose who shattered the male domination of calypso. In 1977 Rose won the distinction of becoming the first woman to win one of calypso's highest titles, Road March of Trinidad & Tobago.
This year, for the second time, two persons are EVERYBODY'S Magazine Person of the Year, Usain Bolt and Tina Charles.
One billion or more basketball fans may have watched Tina Charles lead the U.S. Women Basketball team to victory in the 2016 Olympics. What most people, including many in the Caribbean, do not know is that Tina Charles was born in New York City of Trinidad & Tobago and Jamaican parentage. Her mother, Angella Holgate, is Jamaican. Her father is the renowned producer and distributor of calypso, Ralston Charles of Charlie's Records.
We thank all contributors/readers who sent us their choice for 2016.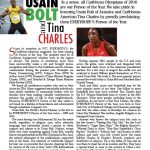 There was not much to cheer about during 2016 in the Caribbean. It was difficult to find a prime minister or political leader who exemplified leadership and wisdom. Travelers remain frustrated. An airline ticket from Trinidad to Grenada, 90 miles away, or St. Vincent to Antigua or Jamaica to Dominica cost as much as an airline ticket from New York to Barbados and sometimes even more. Fortunately, Caribbean Olympians brought hope, pride, happiness and a feel of Caribbean integration.