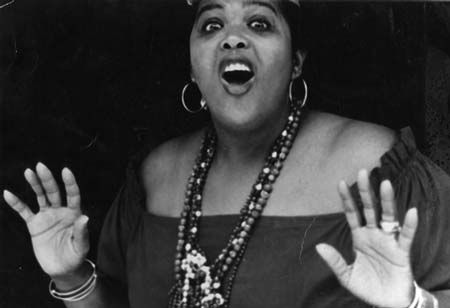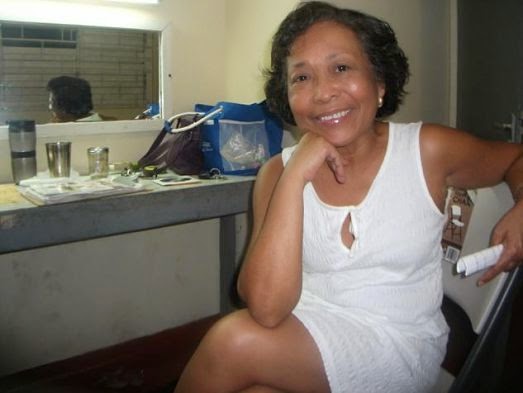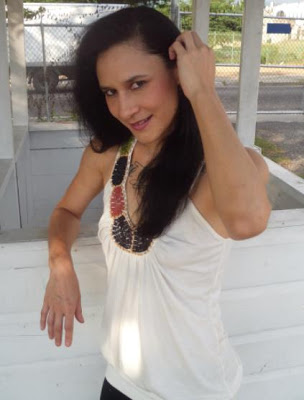 PHOTOS: Maylynne Lowe, (Inside, b/W) Miss Lou (color) Ruth Ho Shing and Maylynne Lowe
As Women History Month 2017 concludes, one has to reflect the impact one of the Caribbean greatest daughters, Miss Lou, continues to have on women of today. Louise Bennett Coverley was born on September 7, 1919 in Kingston, Jamaica; passed on in July 2006 in Toronto, Canada. Declared a national hero of Jamaica, she rests at National Heroes Park in Kingston along with Marcus Garvey, Sir Alexander Bustamante, Norman Manley and other great Jamaican stalwarts.
Like Bob Marley's birthday, every year Miss Lou's own is celebrated. Planning has already commenced for the week of September 7, 2019 when Miss Lou would have been 100.
Miss is proudly embraced as a poet, folklorist, writer, and educator who promoted Jamaican patois or Jamaican Creole but most people do not realize that she clearly understood the common heritage of nearly all Caribbean nationals. As a result, she visited many other Caribbean islands frequently including Grenada and Trinidad & Tobago during the 1950s presenting poetry, folk songs and stories in patois while encouraging each island to maintain its linguistic tradition, patois, developed during the centuries of enslavement.
While Jamaicans have preserved their tradition of telling stories of yesteryear in Jamaican patois especially on stage in live theater, other islands have lost that tradition. Today, there are campaigns in Grenada, St. Vincent and other islands, to resurrect patois.
Nowadays people perceive Miss Lou principally a storyteller. Many do not realize that she had formal training. For example, in 1945, Miss Lou became the first black student to study at the Royal Academy of Dramatic Art in the United Kingdom and later toured with British repertory companies. She was an actress in her own right and graced the world's stage such as the famous Brooklyn Academy of Music. She appeared in several Hollywood motion pictures including "Calypso" in 1956 and "Club Paradise" in 1986.
She made excellent use of radio during the era when the radio was the most popular mechanism for communicating. From BBC Radio in England she broadcasted to the then colonies within the then British Empire. Her radio show, (1945-1946) "Caribbean Carnival," and "West Indian Night" (1950) was heard by millions living in British possessions around the world.
Miss Lou authored several books. Her writing and oral delivery influenced personalities such as Mutabaruka, Linton Kwesi Johnson and Yasus Afari. She lectured in many countries including the U.S.
Today, in 2017, there are no Jamaican actresses who can say they were not influenced by Miss Lou. Many, such as Ruth Ho Shing and Maylynne Lowe, the two powerful women in Basil Dawkins dramatic-comedy "Four Can't Play" said to be one of the best theatrical productions ever in Jamaica, are following the path of Miss Lou.
Like Miss Lou, Maylynne Lowe is both a stage and screen actress. She became a household name in Jamaica as Tanya Blackburn on TV's "Royal Palm Estate" and its spin-off "The Blackburn's." She won national acclaim on the theater stage as Annie Palmer in 2010's blockbuster musical drama "White Witch," for which she snagged both Thespy and Actor Boy awards. "When you're live on stage and giving your all and you feel your audience responding and you're getting that energy from them, it's the best feeling in the world," Miss Lowe once told Tallawah Magazine.
In 2015, her sparkling performances live on stage in "Divorce Papers" brought her to the attention of audiences in the U.S., Canada and England. On Mother's Day weekend, 2017, North American audiences will see her live in Toronto and New York City, Poughkeepsie in upstate New York and Hyattsville, MD between May 20 and May 28 in the popular "Four Can't Play" dramatic-comedy.
"Doing a production like "Four Can't Play" isn't work for me; it's pure pleasure," concedes the actress who, at thirty-something, considers herself the baby in the cast of Oliver Samuels, Dennis Titus and Ruth Ho Shing.
Ruth Ho Shing is at the peak of her illustrious theatrical career. She is almost following the exact footsteps of Miss Lou. Similar to Ms. Lou, Ruth Ho Shing began her involvement in broadcasting more than 20 years ago when she joined the Jamaica Broadcasting Corporation (JBC) as a television production assistant on a wide range of locally produced religious, discussion, drama and live entertainment programs. She also lectures and loves conducting workshops.
There will be children awaiting her and the rest of the cast when they arrive in Hyattsville, MD on May 21 for the staging of "Four Can't Play." A workshop will be held two hours before the play begins.
Miss Ho Shing's outstanding career and contributions continue to inspire – and keep her grounded. "I have been blessed. To still be a working actress in these times I have to give thanks," she concedes, her voice laden with gratitude. "It's been a wonderful ride," she told Tallawah Magazine.
"The spirit of Miss Lou is reflected whenever Ruth Ho Shing, Maylynne Lowe and other Jamaican actresses walk on stage," asserts Trevor Nairne, acclaimed theater director.
Movie aficionados around the world love to talk about Miss Lou in the blockbusters, Calypso and Club Paradise. One of Miss Lou's protégés, Oliver Samuels, has appeared in Hollywood movies; today's generation speaks of Dennis Titus splendid role in Denzel Washington's "The Mighty Quinn."
            Ruth Ho Shing, Maylynne Lowe, Dennis Titus and Oliver Samuels are in the new play, "Four Can't Play," directed by Douglas Prout and Cindi-Kay Dawkins. Toronto, May 12-14; Brooklyn, May 20; Hyattsville, MD, May 21; Queens, NY, May 26; Poughkeepsie, NY, May 27; Bronx, NY, May 28. Tickets from www.everybodysmag.com.
Photo Credit: Tyrone S. Reid – Tallawah