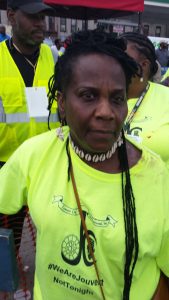 There were multiple shootings during this morning Caribbean Carnival in the segment called J'Ouvert. The event started at Grand Army Plaza and ended at Nostrand Ave @ Clarkson Ave, East Flatbush, Brooklyn, a prominent Caribbean neighborhood. On Empire Blvd. at least one person was shot and more in other areas along the J'Ouvert route.
J'Ouvert is organized by a different group and not the West Indian -American Carnival Day Association, the organizer of the carnival later today on Eastern Parkway. This year, for the first time, Mayor Bill de Blasio and Brooklyn Borough President Adams officially recognized J'Ouvert
The politicians or their offices promoted J'Ouvert in bad taste by having pre-teenage children grace the promotional poster. "Someone ought to tell them J'Ouvert is for adults not for little children," Hilda, a J'Ouvertplayer,  remarked this morning.
With so much publicity on J'Ouvert most cops and the mainstream are asking what is J'Ouvert. The Mayor de Blasio and Borough President Adams may have unintentionally mislead the public by giving the impression that J'Ouvert is the main event and not the Carnival-Parade on Eastern Parkway later today.
There may have been 200,000 revelers in this morning J'Ouvert.
PHOTO: Yvette Rennie, longtime organizer of J'Ouvert this morning.
When EVERYBODY'S asked J'Ouvert organizer Yvette Rennie about the shootings, "I cannot talk about that now," she said.
As early as Sunday afternoon East Flatbush looked like a war zone with hundreds of police officers at various intersections.
For photos of this morning J'Ouvert see our slide show.