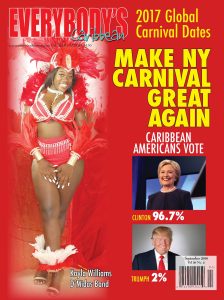 Caribbean-Americans living in Hempstead, NY, site of the first presidential debate on September 26 between Donald Trump and Hillary Clinton, are voting solidly for Hillary Clinton based on EVERYBODY'S Magazine presidential poll.
Hempstead, a suburb of New York City, has middle and upper middle class nationals from Jamaica, Grenada, Barbados, Trinidad & Tobago and other islands. Many Caribbean-American entrepreneurs who are shippers, owners of restaurants and bakeries in Brooklyn and Queens dwell in Hempstead.
As part of EVERYBODY'S Presidential Poll based on our subscribers nationwide, 8 questionnaires were mailed to subscribers in Hempstead (zip code 11550) where the magazine has approximately 150 subscribers. Of the seven persons who responded to the questionnaire, they all indicated they are voting for Mrs. Clinton.
Based on the magazine's poll Mrs. Clinton will get 96.7% of the Caribbean-Americans vote even more than what then Senator Barack Obama got in 2008.
The magazine presidential questionnaire was mailed to at least one subscriber in each zip code across the US where the magazine has a subscriber.  To get details of the survey order the September edition: www.everybodysmag.com.