ORDER TODAY FOR ONLY $23.95!  Why not send it as a gift? The author will autograph each book you order. $23.95 includes S/H
eBook READERS, kindly order it from Barnes and  Noble or from Amazon Kindle. Barnes and Noble Nook:  http://www.barnesandnoble.com
WANT TO GET THE PRINTED COPY
Order the print soft-cover version today for $23.95. Each person who orders it now will receive a personal thank you note from the author and get it autographed.
Send check to: Herman Hall Communications, Inc., 1630 Nostrand Ave., Brooklyn, NY 11226
Reviews
KIRKUS REVIEW
A bloody 18th-century rebellion lives long in the memory of a Caribbean estate in Hall's debut memoir.
The author was born in 1945 and grew up on a spice estate in Grenada called Belvidere, where planting and harvesting had gone on since the 18th century. The stilt-supported barracks of the laborers almost perfectly resembled the cabins of their enslaved ancestors, and their children were barred from exploring the parasite-ridden outdoors or the kitchen buildings where food was prepared on stone slabs and "dried wood and oil-rich nutmeg branches, placed between the stones, served as cooking fuel." At Belvidere, from a perch on his family's front doorsill, Hall heard stories of the estate's notorious former occupant, Julien Fédon, and the bloody rebellion he incited in the spring of 1795 that "seized and plundered British estates," assumed control of the island (except for the seat of government), and eventually cost the lives of thousands of Grenadians. Inspired by the revolutions in Haiti, the United States, and France, Fédon, a seasoned French officer, masterfully played various sides of the struggle—French, British, Grenadian, and Hessian—against one another, and nearly succeeded in changing the history of the western hemisphere. In this volume, Fédon's story alternates with chapters in which Hall tells of his own childhood on the plantation in a sweet, nostalgic tone. He describes it, convincingly, as a melting pot, encompassing "poor whites" and people whose skin color he describes as "black as tar," as well as plenty of East Indians. Among the latter was the author's adopted mother, an illiterate farm laborer who nearly burst with happiness when her son was admitted to exclusive schools. "Wherever people came from," one wise old resident told him, "we were one people when we worked at Belvidere." Hall brings the world of his youth to life with anecdotes that live up to the high billing of their chapter titles. Readers learn about the fascinating mix of religions at Belvidere, as well as about the custom of swinging children over gravestones to protect them from curses; sightings of ghosts in the dismal woods; and the legend of the "loupgarou," island vampires who were allegedly capable of manifesting themselves as giant balls of fire. As a result, Hall's book will absorb readers for hours.
Childhood memories alternate with scenes of revolution and defeat in this complex work from a promising new voice.  Kirkus Review
Format: Perfect Paperback
     Herman's Belvidere Estate – Fédon's House takes us feet first into the famous Belvidere Estate, the 18th century home of Grenada's most legendary character, Julien Fédon.
     Fédon, owner of Belvidere, a slave plantation, and himself of mixed French and African heritage, led a bloody rebellion against the British in 1795. He soon controlled 95 percent of the island and kept the British at bay for more than a year. However, the British prevailed with overwhelming force, and all the rebel leaders were captured and executed–all except Fédon. In a mysterious sequence of events, Fédon vanished like he never existed. To this day, his escape and disappearance remain unsolved, and continue to feed an undercurrent of Grenada's cultural mystique. My own novel, Blood of Belvidere, displays how the Fédon folklore continues to thrive and impact Grenada's political energy. That's where Herman's book comes in. He takes us to the source, Belvidere Estate, where he grew up. Through his words, we feel the rich soil beneath our bare feet and inhale the fresh air, luxuriant with hillside aromas that Fédon himself would have found captivating. But most of all, we hear the echoes of the people still enchanted with Fédon. In Herman's book, we meet intriguing characters whose ancestors surely would have worked for Fédon as slaves or marched along side him as rebels fighting for freedom.
    To understand Grenada and its history, one must understand the role of Fédon and Belvidere Estate. This book will take you there! I thoroughly enjoyed it!
BOOK LAUNCH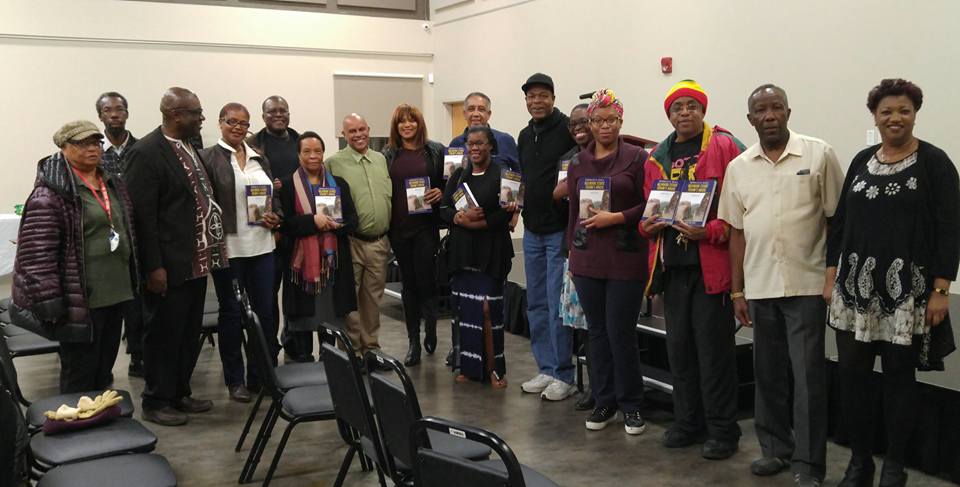 September 15, 2016, Port of Spain, Trinidad & Tobago
September 21, 2016, Gouyave, St. John's, Grenada
September 22, 2016, Marryshow House, St. George's, Grenada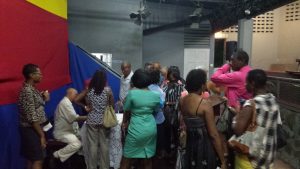 October 26, 2016, Washington, DC
November 5, 2016, Toronto, Canada
December 4, 2016, Brooklyn, NY


  
ABOUT THE
BOOK
The saga of Julien Fédon, a French mulatto, is a hidden secret. Herman G. Hall brilliantly introduces Fédon through the voices of estate laborers.
As he presents Fédon, Hall takes the reader to experience life on a 20th century West Indian estate; to be exact, the decade of the 1950s on Belvidere Estate, Grenada.
Belvidere Estate – Fedon's House is about boyhood days, storytelling, duppy and ghosts, maroons, plantains and calypso.
Julien Fédon is the only person who led a slave uprising in the 18th century West Indies but was never caught dead or alive.
In 1795, Fédon declared all slaves in  Grenada free and they took their freedom until the British restored slavery.
Fédon captured Lieutenant Governor Ninian Home and 47 other elite British subjects then murdered them in the treacherous mountain.
To quell the rebellion, the British recruited German mercenaries and thousands of sailors and soldiers to defeat Fédon in the high and thickly wooded mountains.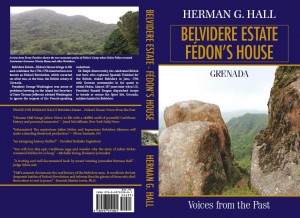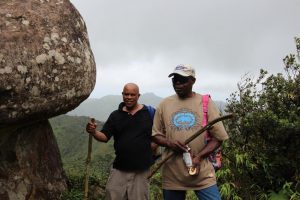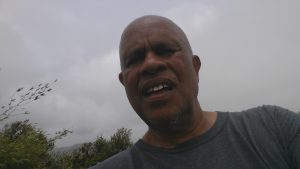 L to R: The author and Dennis Aberdeen at Mount Qua Qua in June 2015.
The author at Fedon's Camp, June 2015