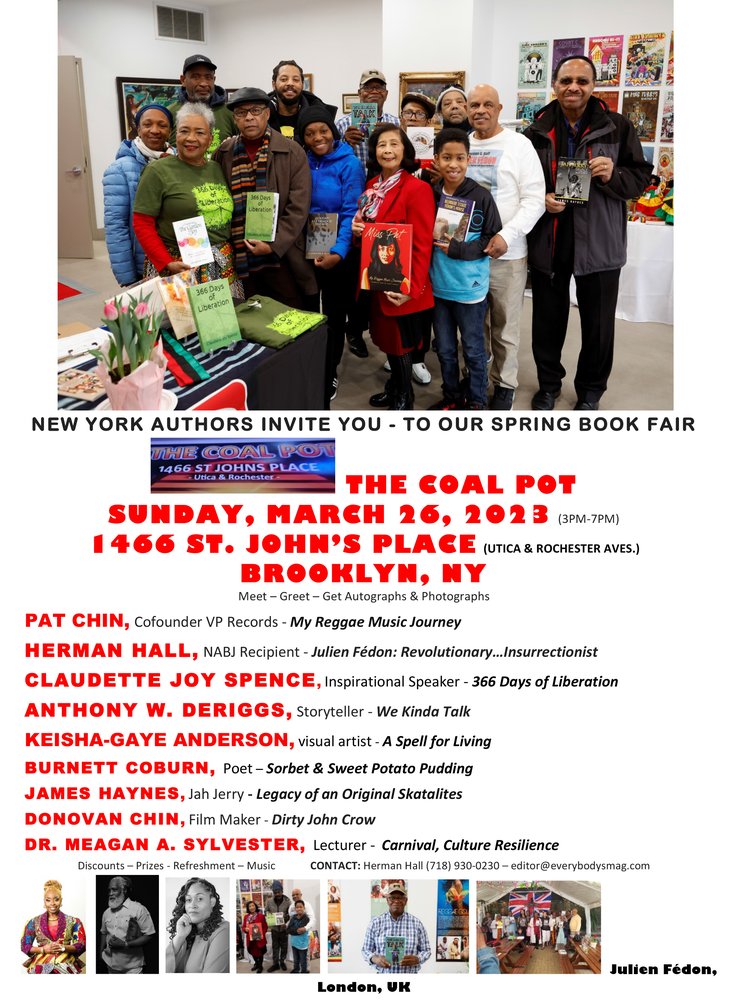 Several authors are hosting a book fair on Sunday, March 26, 3pm-7pm, at the Coal Pot, 1466 St. John's Place, Brooklyn, NY. Authors include:
Pat Chin, VP Records cofounder. Her book, My Reggae Music Journey, is cherished worldwide.
Herman Hall, a recipient of a national journalism award and publisher of EVERYBODY'S Magazine. His two easy reading history books on revolutionary leader Julien Fédon have attracted major book reviewers.
Burnett Coburn was celebrated last July at the St. Maarten Book Festival.
The Skatalites were revered in pre-and-post independence Jamaica. James Haynes, Jah Jerry: Legacy of an Original Skatalites, is a must read.
Claudette Joy Spence, an inspirational speaker, has written several books.
Grenada's Anthony W. Deriggs, Jamaica's Keisha-Gaye Anderson and Trinidad & Tobago's Dr. Meagan A. Sylvester have penned thrilling short stories and novels.
Miss Pat Chin and Herman Hall who are organizing book fairs remind everyone of renowned authors the Caribbean and the diaspora have produced such as Nobel Laureate Derek Walcott, Shirley Chisholm, George Lamming, historian Dr. Eric Williams, Jamaica Kincaid and Césaire, Aimé.
"Many local authors have exciting novels and poems but they believe by placing their publication on Amazon it will automatically sell; they do not promote and then authors are disappointed by lack of sales," explains Hall.
He continues, "Bestselling authors frequently promote their books in spite of their fame. Millions of people worldwide saw actress Sheryl Lee Ralph singing The Negro National Anthem at the 2023 super bowl. Her portfolio includes her 2022 Emmy Award from the TV show Abbott Elementary, on Broadway in Dreamgirls, Modern Milli and Wicked, a Tony Award and in several big screen movies. But the icon is realistic. She understands promotion. She was at Restoration Plaza in Bedford Stuyvesant, Brooklyn, on Saturday marketing her book, DIVA 2.0: 12 Life Lessons From Me For You."   Visit Sheryl Lee Ralph on social media to know when she is visiting your city. (Photo: Sheryl Lee and Hall. Her parents were early subscribers of EBM. She displays her 1985 EBM cover last Saturday in Brooklyn.)
[email protected] or (718) 930-0230 – VP Records (718) 297-5802