Congressman Lee Zeldin, who is running for governor of New York, and his running mate Alison Esposito met with representatives of the Caribbean community in New York City. Polls reflect a close race between Governor Kathy Hochul and Zeldin. While acknowledging that most Caribbean voters are Democrats, Zeldin said he hopes to earn their vote. Zeldin and Esposito provided thorough answers to questions. Many attendees asked what a possible Governor Zeldin will do about the "so-called affordable housing" where the monthly rent is $2700-$3100, making it difficult for people who earn $50,000 or less not to qualify. Zeldin said after 20 years of Democrat governors during that time, two resigned in disgrace, "the system is broken; therefore, a new and strong leadership is essential." Some attendees at the roundtable meeting said they are lifelong Democrats but plan to vote for Zeldin and Esposito because they are frustrated with the breakdown of law and order and the poor leadership exhibited by seasoned Democrats. They urge voters to cast their ballot for Zeldin.
Nine days of Early voting across New York State begins on October 29. Voters are urged to vote during one of the nine days (Oct 29-Nov. 6) rather than waiting until November 8.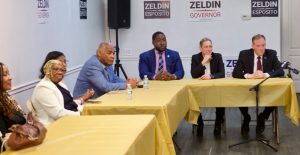 2nd from L: Candidate for Lt. Governor Alison Esposito.
Head Table-L-R: Joe Pinion, Candidate for the U.S. Senate whose mom is Jamaican, Alison Esposito and Congressman Lee Zedlin.    (Photo Leonard McKenzie)