Bunny Rugs whose real name was William Clarke, a popular member of the famed Third World reggae group, died at his home in Florida after a long fight with Leukemia. He was 65.
Bunny Rugs as he was known worldwide was a pivotal member of Third World when the group became famous with their 1978 hit, "Now that We Found Love."
"He had a charisma and stage presence that were spellbinding, with a vibrant smile," remarked Lisa Hanna Jamaica's Minister of Youth and Culture.
"Bunny Rugs will always be remembered as one of the truly talented and devoted pioneers of Jamaican reggae music, and as one of the finest voices to have grace the Jamaican music landscape," said Olivia Grange former Jamaican Minister of Youth, Sports and Culture.
Grange, a promoter of reggae music when she resided in Canada in the late 1970s, once sent a package of Third World bios and records to EVERYBODY'S Magazine. The young lady who brought the package direct to EVERYBODY'S and it was her first trip to NY was Carleen Davis who Grange was nurturing.
Rugs recorded more than 20 albums with Third World beginning with the mega hit of 1976, "Ninety-Six Degree In The Shade."
At the peak of Third World in the late 1970s and through the 1980s, the group graced the cover of EVERYBODY'S on several occasions.
On the 20th anniversary of EVERYBODY'S Magazine in 1997, Third World performed at the magazine's gala at Avery Fisher Hall, Lincoln Center in New York City. When the group was invited to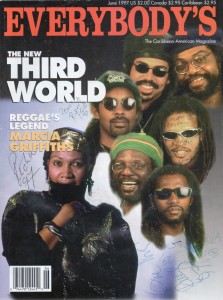 perform both Bunny Rugs and Steven "Cat" Coore, another member of the group, said they were honored to be part of the celebration since they appreciated all the features and interviews the magazine did with them over the years.
William Clarke "Buny Rugs" is survived by his wife and children.