Brooklyn, NY, January 18, 2014
Reported by H. Hall
What an evening!
Fans of the Mighty Sparrow and other diehard calypso lovers packed Melanie's Sports Bar at Fulton Street to welcome the Mighty Sparrow. It was Sparrow's first public appearance since his illness and worldwide rumors that he had died.
So believable were rumors of his passing last September that even the New York Times, Daily News, and media in Canada and England called EVERYBODY'S Magazine to confirm the sad news. The magazine continuously told them it was not true and asked them to urge fans to pray for the Mighty Sparrow.
At that time, the man named Slinger Francisco at birth in Gran Roi (Grand Roy), Grenada, remained in a diabetic coma in a Queens hospital in New York City.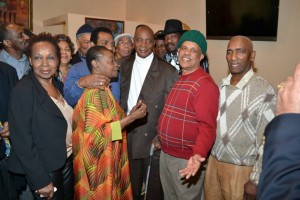 Weeks later Sparrow gradually came out of the coma, discharged from the hospital and sent to a therapy center where he is still recuperating.
The therapy center reluctantly granted him three hours to meet fans in Brooklyn at a benefit for him organized by Derek Parsons of WACK Radio and Calypso Rose.
Although old winter raised its ugly head after a few days of reprieve even the freezing temperature and high winds couldn't prevent Sparrow from meeting fans and admirers from welcoming him. Melanie's was packed with people like a subway train in the peak of rush hour.
Calypso Rose opened the show with kind remarks and belted out a few crowd favorites. Rose loves her idol, Sparrow, so much that she remained in NY for the event rather than going to Tobago for her brother's funeral.
Sparrow did exactly what he told me he would do in a phone conversation last week. He started by singing the Lord's Prayer but burst out into tears  in reaction to the outpouring of love and affections from a cross section of the Caribbean-American community which included radio personalities, musicians and promoters such as Ian D'Goose Elegan, Charlie of Charlie's Records, Sunshine Diaz, Frankie McIntosh and DJ Maddy. "The Mighty Sparrow's appearance reflected the courage and determination of the Calypso King of the World," said Gil Figaro, Founder and Producer of the Sunshine Awards. Indeed, tears of joy flowed from many while Sparrow was singing. Since Sparrow has been on the recovery road he has been accepting calls from many leaders including Nation of Islam leader Louis Farrakhan and Prime Minister Baldwin Spencer of Antigua and Barbuda.
"I don't want anyone to feel sorry for me. I want fans to come to see me sing and entertain," Sparrow told EVERYBODY'S Magazine a few days before.
And, what a stirring interpretation of "The Lord's Prayer," for an unforgettable evening. Throughout his 40-minute performance his voice and delivery did not give a hint that a few months ago Sparrow was motionless in a coma.
When Sparrow delivered, "Man Will Survive," he gave hope and optimism to everyone in the audience suggesting that he is not going anywhere soon, as he expects to continue singing with God's guidance.
Sitting on a tall stool, Sparrow rendered a fraction of his classics. When he sang "Jean and Dinah" he took me back to Clozier-Belvidere of 1956, when, as a nine year-older, I watched the glow of the grownups as they proudly said, "Mr. Sandy Francisco who rides his donkey to Clozier everyday is the grandfather of the man singing on the radio."
When Sparrow delivered "Melda," he had me reminiscing about friends on Carnival Saturday night of 1965 or 1966 as we listened to carnival events happening in Trinidad in Lincoln Smith's house in the mountains of Grenada. The late Lincoln Smith, an ardent Sparrow fan, was the one who lifted Prime Minister Maurice Bishop from house arrest in 1983.
"Congo Man," "Drunk and Disorderly" and "Lying Excuses" followed but the fans though wanting more, were sensitive to Sparrow's health, did not request "more Sparrow, more" as it was time for him to get back to the therapy center.
In spite of still recovering from pneumonia, I had to be at Melanie's to welcome Sparrow but I left there believing that Dr. Slinger Francisco went to Melanie's to help me. He was the doctor, I was the patient. He lifted my spirits after weeks of health issues, business challenges and frustration that I could not do my annual swim on New Year's Day at Coney Island with the Polar Bear Club.
Sparrow is almost back and those who proclaim to love Sparrow must never offer him a beer or other alcoholic beverages. They are now taboo for Sparrow and he joked about not having them anymore.
It was 9:50pm when Sparrow ended his renditions and he was scheduled to leave promptly at 10pm for his therapy residence and the limo was waiting. The great one remained greeting fans and posing for photos. It was 10:40pm when he entered the limo. As I told one of his daughters, Michelle who is a lawyer, Secret Service is tough on the President of the US; a prime minister has to obey the prime minister's security personnel for the prime minister's safety. The family and inner circle of Sparrow will have to be tough on him to safeguard his health.
Sparrow expects to be discharged from the therapy center soon and he is looking forward to perform in Trinidad & Tobago in March during carnival, including a stellar event at the National Academy for the Performing Arts and resuming entertaining fans worldwide.
In May, Sparrow, the man around whom the annual Mother's Day Caribbean concert in New York City was developed, is looking forward to performing at EVERYBODY'S Mother Day Saturday Concert with Shadow, Sandra, King Short Shirt, Calypso Rose, Braata Jamaican Folk Singers and others. What an evening that would be. We expect the anticipated 2, 500 persons at the concert will welcome Sparrow with a standing ovation that will echo across the calypso world.