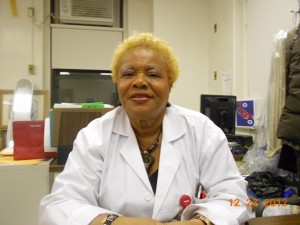 We regret to announce the passing of popular Barbadian-New Yorker, Joan Cumberbatch, who recently retired after an illustrious career in nursing and community affairs.
Last Tuesday she went to Mount Sinai Hospital to remain there for three to four days for doctors to take care of a medical issue but the Lord called her on Friday afternoon.
Joan was looking forward to be home by Labor Day weekend and to enjoy Brooklyn's Carnival on TV as she recuperated.
VIEWING: FRIDAY, SEPTEMBER 11 @ 4:00PM-6:30PM
WAKE: 6:30PM-7:30PM
WHERE: R. STEVEN LEGALL FUNERAL HOME, 169 EMPIRE BLVD., BROOKLYN
FINAL RITES: SATURDAY, SEPTEMBER 9:00AM
WHERE: SAINT PAUL'S CHURCH IN THE VILLAGE OF FLATBUSH, 157 ST. PAUL'S PL, BROOKLYN
        As a young immigrant from Barbados in NY in 1968, Joan lived the American Dream. She obtained her High School Equivalency Certificate and entered the medical field as a Nurse' Aide. She later obtained her Master's and resigned from Kings County Hospital Center last year as Assistant Director of Nursing.
Joan was an active member of New York State Nurses Association (NYSNA) and the American Nurses Association (ANA).
She was a former president of the Barbados Nurses Association of America (BNAA) and remained active until her demise. She participated in numerous fundraising events to finance many educational and medical projects in Barbados.
During the early 1980s Joan joined EVERYBODY'S "Caribbean" Magazine family and mainly helped the magazine's cultural productions offering her services in public relations and promotion.
Only a few days before she left for the hospital, Joan reserved seats for friends who would be attending the Oliver Samuels play, "Divorce Papers," on September 19 at Brooklyn College. Over the years she handled various responsibilities for Herman Hall Communications/Everybody's Magazine for concert and theatrical productions.
Needless to say, we at Herman Hall Communications are shattered. We have received condolences from several artists including calypsonian Shadow and actor Oliver Samuels.
Left to celebrate the life of Joan Cumberbatch is her son Ricardo, her grandsons, other family members and her extended family at Kings County Hospital Center, BNAA and Herman Hall Communications.