President Obama(2015)  and President Ronald Reagan (1982)
Historic Caribbean Trips
From Wednesday, April 7 to Thursday April 8, 1982, President Ronald Reagan visited Jamaica. And now, almost to the exact date 33 years later, Barack Obama is the 2nd sitting US president to visit Jamaica and a woman, Portia Simpson-Miller, the Prime Minister of Jamaica, welcomed him.  President Obama also met with other CARICOM leaders, including another female, Prime MinisterKamla Persad-Bissessar of Trinidad & Tobago. How times have changed!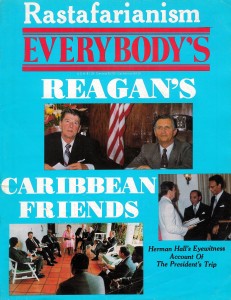 There are many more contrasts between the trips of President Barack Obama and President Reagan. EVERYBODY'S Magazine focuses on them in its April/May edition. (About to print)
Flying with President Reagan, First Lady Nancy Reagan and the White House Press in April 1982 was EVERYBODY'S editor/publisher, Herman Hall.
His vivid eyewitness account of Reagan's visit to Jamaica and Barbados created a demand for the May 1982 edition. Today, a treasured copy is in the Ronald Reagan Library.
Hall's historic article of the 1982 presidential visit is reproduced in EVERYBODY'S April/May 2015 edition. You may order it in a few days from www.everybodymag.com.
"I urge everyone to read Hall's 1982 article. You will find it informative, educational and entertaining," says B. Wilson, a Caribbean historian. "You will get an understanding of tensions in the Caribbean of 1982 as Grenada charted its independent course. The article provides an excellent snapshot of the region and provides a lens through which to view the growth and maturity of the region."
What was served at the dinner in honor of Ronald and Nancy Reagan that Wednesday evening? Was it a State Dinner? What music and whose music played? Did Michael Manley attend the dinner? What gifts did Governor-General Sir Florizel Glasspole and President Reagan exchange?
The edition will be released around April 20. For more info call (718) 941-1979.