NY-Aug 3: Jamaica's Independence Day is Thursday, August 6, when the nation turns 53 but yesterday, Sunday, the Jamaica national anthem echoed in most churches across the U.S. northeast with sizable Caribbean and Jamaican congregation. At St. Luke's Episcopal Church in the Bronx, NY, Father Steele, a Trinidadian of Grenadian parentage, had the Jamaican anthem rendered twice much to the delight of the large congregation.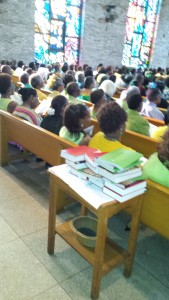 Many Jamaicans, friends of Jamaicans, descendants of Jamaicans and even members of the clergy proudly displayed the green, yellow and black colors of Jamaica. Most women dresses and headpieces consisted of the national colors too. Jamaican-Americans who are recipients of a Jamaica National Medal proudly wore them.
The official Independence Church Service of Thanksgiving in New York City was held at St. Frances of Rome Catholic Church in the Borough of Bronx. The officiating clergy representing different denominations, elected officials and the congregation came from the boroughs of Queens, Manhattan, Staten Island and Brooklyn. Assemblyman Nick Perry journeyed from Brooklyn.
Bronx, the only borough of New York City located on the U.S. mainland, will be the venue of another major Jamaican event. It is the staging of "Divorce Papers," the popular 2015 Jamaican play written by Basil Dawkins starring Oliver Samuels with a cast consisting of icons and emerging stars such as Ruth Ho Shing and Maylynne Lowe. It will be held at Lehman Center, Lehman College on Saturday, September 26.
The Rev. Canon Calvin C. McIntyre McIntyre, Rector of the Church of the Good Shepherd, while making a point at the official Service of Thanksgiving repeated a popular Jamaican proverb popularized by Oliver Samuels in the sitcom, "Oliver at Large."
The Guest Preacher was Rev. Dr. Samuel Vassel, Pastor Church of the Nazarene, Bronx. Rev. Vassel reminded Jamaicans and other Caribbean immigrants to help the islands of their birth but equally contribute to the quality of life in the city they now dwell.
Many Jamaican organizations from Baltimore, Md to Boston, Ma celebrated independence at formal dinner-dance events and parties and concerts. The official and popular Jamaica Independence Ball is scheduled for Saturday, August 15 at the Hilton Hotel in New York City. Most likely Prime Minister Portia Simpson-Miller will attend.