Rum & Ting
DG White Overproof Rum
From Desones and Geddes
NY- EVERYBODY'S CARIBBEAN NEWS SERVICE:  "May I have a DG Overproof White Rum and Ting" was the request of guests at the launching of DG Overproof White Rum at the famed Door Restaurant in Queens, NY.
"Rum and Ting!"
  

          Back in the 1940s, during World War II, calypsonian Lord Invader composed the renowned "Rum and Cocoa Cola" hit. In the early 1950s The Andrew Sisters sold over 1,000,000 of the tune. The calypso tune became subject of articles in all the leading publications of that era from TIME to The New York Herald and today rum and Coke remains a popular drink in bars and at social events.
It is now the 21st century, year 2015, and people are asking for "DG Rum and Ting." Not all rums are equally. They are specifically asking for "DG Overproof White Rum and Ting."
Desones and Geddes is one of Jamaica's most famous companies especially for its beverages such as ginger beer and sodas. Ting, a grapefruit soda, bottled by Desones and Geddes, is a product of Jamaica known worldwide.
Desones and Geddes has boldly entered into the rum industry. Connoisseurs say that DG Overproof White Rum is excellent and believe it will soon become internationally famous.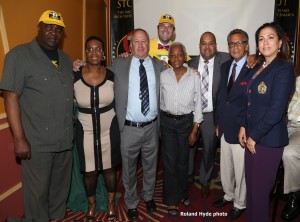 Former City Councilwoman Una Clarke, mother of Congresswoman Yvette Clarke, was one many personalities who attended the VIP reception to introduce DG Overproof White Rum to consumers in New York City.
       Desones and Geddes selected Riviera Imports to distribute and market DG Overproof White Rum in the U.S.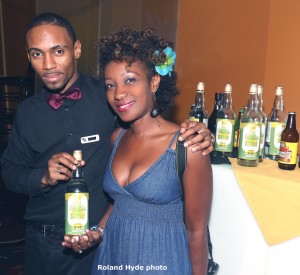 Riviera Imports, markets spirits, wines and beer brands from around the world. The company is a First-Tier marketer of brands that satisfy distinct consumer segments and offer sustainable growth and profit potential at each industry level. From its inception almost a decade ago, the company has built a diverse brand portfolio whose annual growth rate exceeds 20%. Riviera is led by Edward Caan, CEO and founder. Ed has over 45 years of executive experience in the wine and spirits industry, primarily at Seagram's.
PHOTOS: Juan Reyes, John Hartwig, Henry Joseph, Hon. Una Clarke and Brian Hartwig joined others in presenting another Jamaican treasure: DG Overproof White Rum.      (photo Roland Hyde)
 MORE PHOTOS OF NY LAUNCH OF DG OVERPROOF RUM