Oliver Samuels' "Divorce Papers"
Sep. 19-20 and Sep 26-27
"Divorce Papers," the most popular and hilarious play of the 2015 Caribbean theater season starring Oliver Samuels, Barbara McCalla, Maylynne Lowe and Dennis Titus opens tonight, Saturday, Sep. 19 at Brooklyn Center for the Performing Arts.
The play will be staged at Howard University, Cramton Auditorium, Washington, DC, tomorrow, Sunday, Sep. 20 at 6pm.
The star studded cast includes Dennis Titus who appeared in Denzel Washington's blockbuster movie, The Mighty Quinn.
The New York City venues and dates are:
      Brooklyn Center at Brooklyn College, Saturday, September 19, 8 pm  ($60, $55)
Lehman Center at Lehman College, Bronx, Saturday, September 26, 8pm ($60, $55)
York Performing Arts Center at York College, Queens, Sunday, September 27, 4:30PM ($55)
www.everybodysmag.com
Both Dennis Titus and Maylynne Lowe could have remained in the U.S. and become household names on television, in motion pictures and on Broadway but they chose to return to Jamaica to contribute to theater, the performing arts and nation building.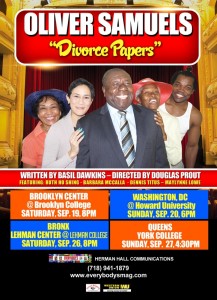 Dennis Titus is a graduate of Edna Manley College, Jamaica. He developed his craft further in theater, film and television in the UK and USA. A friend remarked, "The opportunity of Dennis working alongside Denzel Washington in The Mighty Quinn is an experience which helped him to become a dedicated professional." Dennis Titus played the role of Percy in The Mighty Quinn. Critics have also applauded Titus for his magnificent roles in Embassy Saga and Dolly House.
No wonder Rev. Devon Dick, pastor of the Boulevard Baptist Church in St Andrew, wrote in the Gleaner. "….This play is not only for persons who are divorced or who are contemplating divorce, but for all persons interested in romantic relationships. It is a play for the entire family."
The staging of "Divorce Papers" in New York City is promoted by Herman Hall Communications. Ticket prices are: Brooklyn College and Lehman College, $60, $55, $50; York College $55 in advance. Available online at www.everybodysmag.com; at Brooklyn College and Lehman College box office and in community outlets or call Herman Hall (718) 941-1879.