Edited by Gladys Mark
 Featuring 1.

Aisha Braveboy

, State's Attorney, Hyattsville, MD  2.

Moye Stephenson-Fairweather

, A Pillar in MD & DC, 3.

Nathalie Taghaboni

, Author, raconteur, photojournalist, 4.

Alice A. Nicholson

, Peoples Attorney, Brooklyn, NY,  5.

Jovia Radix

, Best Qualified for City Councilor, 6.

Rosie Peppy Parke,

Ghana's Commitment  7.

Avril Francis

, Breast Cancer Awareness Champion, 8.

Sandra Laverne Baghaloo,

Special Honoree 9.

Helenia Witty,

Special Honoree
AISHA BRAVEBOY, State's Attorney, Hyattsville, MD
Step aside Caribbean-New Yorkers, you are not the only ones who elect people of Caribbean heritage to high profile public offices in the U.S. Aisha Braveboy is State's Attorney of Prince George's County, Maryland. This important public office is known as the District Attorney (DA) in many municipalities across the U.S.   As State's Attorney, Braveboy is the chief prosecutor in Maryland's second largest county with a population of approximately 1,000,000. Cities in Prince George's County include Upper Marlboro, Adelphi and Hyattsville.
Three candidates vied for the position in the 2018 Democratic Primary but more than 62% of Democrats gave her the nod. She made a slam-dunk in the general election last November by getting almost 97% of all votes cast.
Ms. Braveboy was born in Washington, DC. Her father, Cuthbert, is Grenadian from the Parish of St. Patrick's and her mother, Norma Braveboy, is a Washingtonian. The State's Attorney is a graduate of Largo High School and the University of Maryland; she received her Juris Doctorate from Howard University Law School.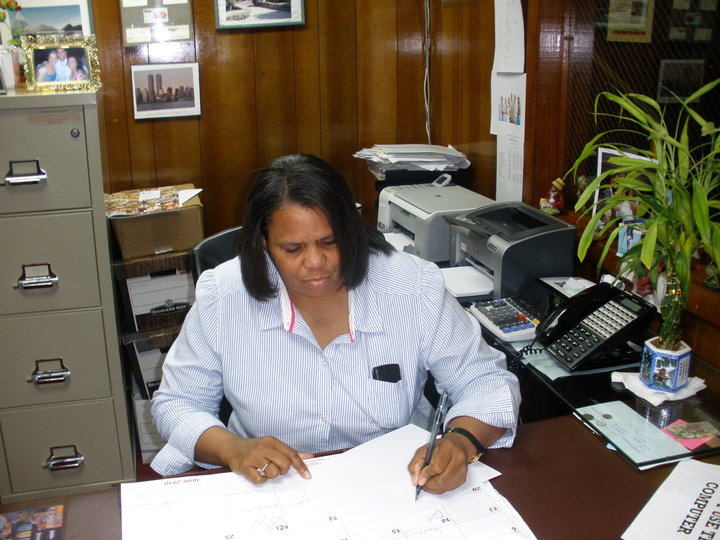 Helenia Witty,  S/R Manager, Tower Isles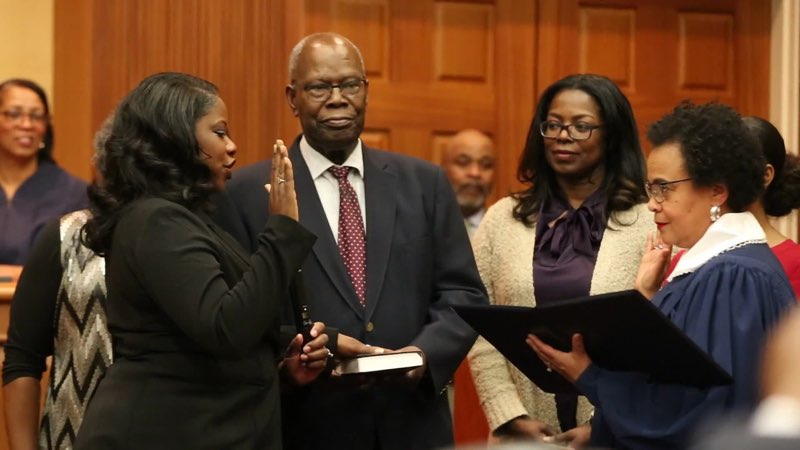 Aisha Braveboy takes the Oath of Office for State's Attorney, Hyattsville, in the presence of her parents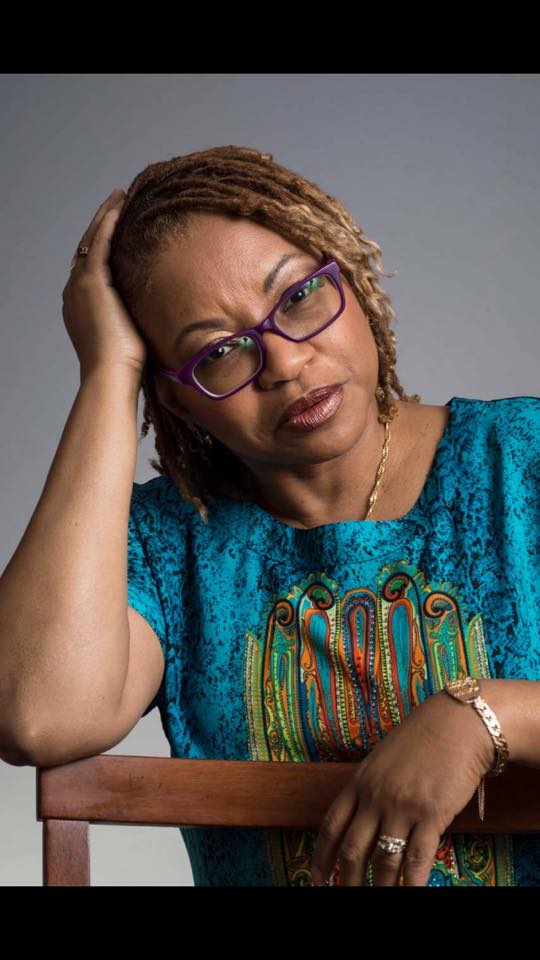 Novelist/Journalist Nathalie Taghaboni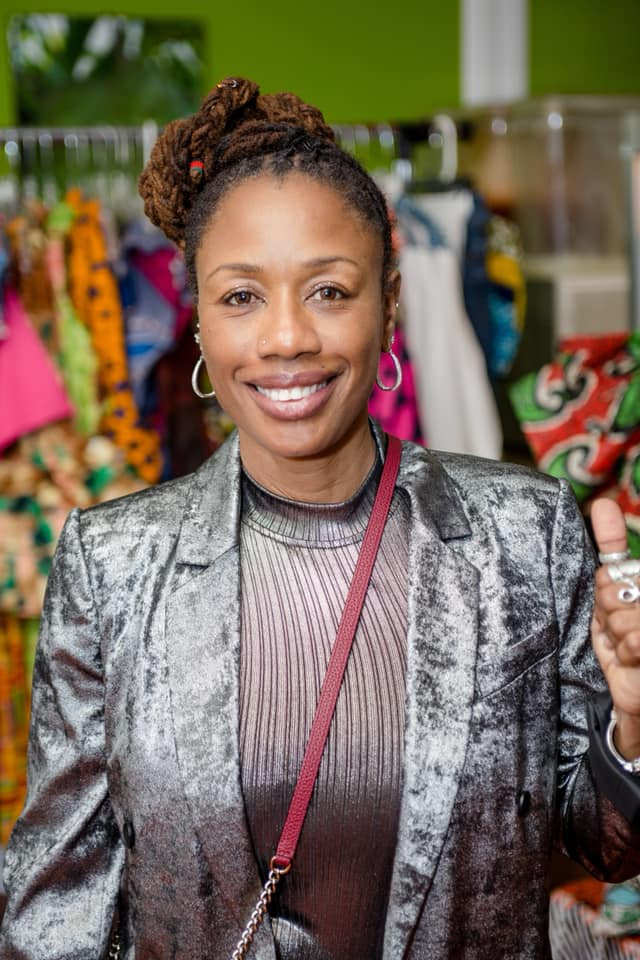 Rosie Peppy Parke
Moye Stephenson-Fairweather, A Pillar in MD & DC
 "Moye Stephenson is one of the most patriotic Jamaicans I have met. Some people love their land of birth but do nothing much to help their country. They utter words but create no action, it's just mere lip service," states Mike Malcom, an entrepreneur in Bowie, Md. "Moye spends almost all her time serving Jamaica, and the Caribbean-American community in the Maryland-Washington area."
"She is involved in so many programs and causes, I don't know where she gets the energy to fulfill her commitments," observed Lisda Sawney, her Grenadian amigo.
"The spirit of community building was instilled in me by my grandparents since childhood," Stephenson humbly explains. "Even before I was 12, I taught Sunday school."
Arriving in the United States from her beloved St. James, Jamaica, in 1977, to join her parents, teenager Moye graduated from Montgomery Blair High School in 1980. Having a high school diploma was not sufficient for Moye. She enrolled at Montgomery College and the University of Maryland where she received several degrees and certificates.
Ms. Stephenson-Fairweather is employed at Montgomery College in Rockville. After 27 years at Montgomery College, she says, "I still enjoy working there." She is the Advisor for the Caribbean Student Association (CSA) and serves annually as the Head Judge in Communications for the Mathematics, Engineering, Science, and Achievement program (MESA). She interviews high school students on behalf of the Star Scholarship Foundation (Stand Tall And Reach).
Moye has been active in the community for forty years. The community's appreciation of her contributions is reflected in several awards and citations she has received including a Montgomery County Executive Certificate.
Stephenson-Fairweather is a member of the Jamaican Nationals Association (JNA); Co-Chair of the Cultural & Social Committee and the Education Committee. She is the Executive Secretary of the International Social Club of Maryland (ISCM) and member of the Caribbean American Advisory Group (CAAG) in Montgomery County.
Like other women of St. James, Jamaica, Moye is adventurous; bold and talented to portray on stage, Jamaican National Hero, the late Miss Lou (Louise Bennett).
Moye holds a Certified Nursing Assistant license (CNA) and works with the elderly whenever time permits.
She attends Mount Jezreel Baptist Church where the pastor is Rev. Eldridge Spearman. She serves on the Prison Ministry teaching Bible study to the incarcerated and participates in the Community Outreach Program Ministry (COP).
"I can do all things through Christ who strengthen me" (Philippians 4: v13) therefore, I will continue to help others until I depart from this life. Amen," this industrious woman says.
 Nathalie Taghaboni, Author, raconteur, photojournalist
"Though I have been writing articles for many years, my official career began in 2001 when I became a columnist for the SHARE Caribbean newspaper in Toronto," boasts Nathalie Taghaboni, a resident of Ohio. Her popular, and much quoted columns, ran for over ten years in Canada's oldest Caribbean tabloid, SHARE, established in April 1978 by Arnold Auguste. "I enjoy writing in the vernacular, for me, it is one of the best ways to write expressively and SHARE gave me the opportunity."
She wrote for the Chicken Soup series and became a featured writer for SHE Caribbean Magazine published in Saint Lucia. Taghaboni continues to write for several online and print publications.
An independent woman, Taghaboni is also in the business of publishing. She is the CEO of Commess University (Press), an independent publishing company.
Born in Trinidad & Tobago, Nathalie expresses her colorful and witty Trini spirit in her short stories and novels. Tales from Icebox Land – social satire – is a collection of essays written entirely in the Trini Speak. The paperback version of this book sold out after three reprints, and is now out-of-print. The e-version is currently available on Amazon and Kobo.
Her Savanoy Series – drama, romance, Carnival, mature reader, fiction – consist of three novels.
    Across From Lapeyrouse, a sizzling, suspenseful love story, was released in April 2012. The book is available in paperback and e-book on Amazon, Barnes and Noble.com, Kobo.com and Nook.com.
Santimanitay, published 2013, is a melodrama. Love, infidelity, lurid sex and abuse of power by the island's prime minister and family, prevents the reader from stop reading the episodes.
    Side By Side We Stand was released in July 2016. It is in paperback on Amazon and selected bookshops world-wide.
    Dark Night and Lace – Things that go bump in the Caribbean night – will be released in 2020.
Nathalie is married and her son aspires to develop a career in music.
Want to read her novels!
ALICE A. NICHOLSON
Peoples Attorney, Brooklyn, NY
Attorney Alice A. Nicholson who represents many victims of foreclosure is a candidate for the Civil Court Judge in Kings County's 6th Judicial District. Kings County comprise the Borough of Brooklyn. Communities such Park Slope, Midwood, Prospect Heights, Crown Heights, Prospect Lefferts Gardens, Flatbush, East Flatbush, Prospect Park South, Kensington, and Ditmas Park are in the 6th Judicial District.
Ms. Nicholson, a Democrat, hopes to win the June 25, 2019 primary and be formally elected in the general election in November. She has an impressive record of seeking justice for people of all background and color.
The frontpage story and photo of New York Daily News of Wednesday, September 5, 2018 and Sunday, November 14, 2018 detailed the drama of a family about to lose their home through foreclosure. It was not an ordinary white family the Daily News and other New York media focused on.
The husband, George Bender, a retired NYPD detective, afflicted with 9/11 debilitating health problems, was about to go homeless because a bank, Wells Fargo, threatened to sell his home for falling behind in mortgage payments leaving Mr. Bender, his wife and two daughters without a home. As a police officer, in days and weeks after the World Trade Center attack, Mr. Bender, worked at Ground Zero, the city morgue and at Fresh Kills landfill in Staten searching for body parts and fragments of the Twin Towers.
Superb legal work on behalf of Mr. Bender by Alice Nicholson and other parties forced Wells Fargo to reverse its decision.
"I was almost in tears," Bender told the News when he heard the positive news and unreservedly praised Nicholson.
A jubilant Alice Nicholson said to the media, "What came to me was the Wells Fargo advertisement 'Together we'll go far,' and this shows we can. But there are a lot of people like George Bender who made real contributions to society … We can do better for them."
A graduate of New York University School of Law in 1986, lawyer Nicholson began her career fighting for income for the disabled and seniors as a Social Security advocate at Bedford-Stuyvesant Legal Services and Queens Legal Services. During law school, she worked on police brutality cases against young men of color, at the Center for Constitutional Rights and at the American Civil Liberties Union.
Egbert Reid, a voter in East Flatbush says, "This woman deserves our vote!" Based upon her vast contributions and experiences, Ms. Nicholson should be a formidable candidate.
The wanna be judge graduated from the Borough of Manhattan Community College and Hunter College.
She was born and raised in Grenada where she received her primary and secondary school education. The famed Anglican High School is her alma mater.
Jovia Radix
Best Qualified for City Councilor
In a New York City council district in Brooklyn where almost 70% of the population are West Indian immigrants and of West Indian heritage, a truckload of candidates is seeking the seat vacated by Jumaane Williams who is now the number two person in municipal government, he is the public advocate. Jovia Radix, a young lawyer of Barbadian and Grenada parentage, is campaigning for the 45th Council district seat in a hotly contested special election.
Ms. Radix, daughter of a dentist, Dr. Joe Radix and Judge Sylvia Radix, is no stranger in the community. During her high school years, she participated in the community's social, political, economic and cultural affairs. She is frequently seen at Oliver Samuels plays and Caribbean concerts staged at Whitman Theater. While in law school Jovia found time to play an active role in William Thompson run for the mayoralty.
The special election is May 14 and the successful candidate will serve until December 31, 2019 when Williams' term would have expired. As a result, a few weeks after the special election, there will be a primary on June 25 and general election on November 5 for persons who wish to become the councilor for the district effective January 1, 2020.
Democratic Party candidates Ms. Radix is up against include Anthony Alexis, Anthony Beckford, Monique Chandler-Waterman, Louis Cespedes Fernadez, Jean Similien, Farah Louis, Hercules Reid, Xamayla Rose, Adina Sash, L. Rickie Tulloch and Jordan Victor. Some run in every election for any office available. Jovia Radix has a far better record of public service. "I'm voting for her because she is most qualified when I compare her with the rest," says Trinidadian-born M. Young, a resident in the district.
Rosie Peppy Parke
Ghana's Commitment
    In March, Rosie Peppy Parke held her 14th annual "Women's HerStory Month Celebration," Sistahs Inspiring Positivity (SIP) in a restaurant in Upper Marlboro, MD. The event, Sweet Home Jamaica, raised funds to purchase laptop computers Ghana. "Let us change the narrative and show by example that we are truly Sistahs who inspire other sistahs and Black people who give back to Blacks," she told friends at the restaurant. For those who couldn't attend she appealed to them to give her computers to ship to the West African nation.
Born and raised in Jamaica, Ms. Parke has been living in the MD-DC area since January 2003. She holds a Master's degree in management with specialization in public relations and an undergraduate degree in business and professional management. She also has an executive management certificate in nonprofit management from Georgetown University.  Parke is the founder and creative director of Peppy Entertainment & Promotions, LLC. She hosts PEP Talk on TV and Radio. The former director of communications and partnerships for East River Family Strengthening Collaborative, is a fitness & wellness instructor.
Her areas of expertise include planning, administering, and managing workshops, conferences and events domestically and internationally. She serves as liaison with external partners to conduct research on emerging industry and technological trends.
Want to donate a laptop or contribute towards purchasing one! Contact Ms. Parke at:
Avril Francis
Breast Cancer Awareness Champion
Avril Francis is a pillar in the Borough of the Bronx, NY. She loves to talk about anything on this earth but provides substantial information mixed with wit on her radio and TV programs, The Avril Show. She is seen on Manhattan Cable, Bronx Cable TV and Verizon TV and heard on Monday nights on 93.5 fm.
She spends most of her leisure time communicating breast cancer awareness to women and men too. One recent radio show with her co-host, Joe-the Barber, exposed the fact that a growing number of men are developing breast cancer.
Her Avril Francis Show Foundation "is about change," she explains. "We build our reputation on lifting others up when they cannot lift themselves. Every year we raise funds to support the needs of cancer research and we donate funds to back to school programs in our communities."
This year's Foundation fundraising gala is June 7 at Eastwood Manor, Bronx, NY.
The gorgeous woman from St. Kitts and Nevis is principled and determined as two other women whose parents hailed from the two-island-nation. They are actress Cicely Tyson and the late civil rights lawyer, Judge Constance Baker Mottley.
Sandra Laverne Baghaloo
Special Honoree
"I enjoy serving customers and I encourage my staff to be patient with them and hospitable because we want each customer to comeback. Remember, without customers, we have no business," says Laverne Baghaloo, manager of four Golden Krust bakeries in the Bronx, NY.
Sandra, as she is sometimes called, is associated with Golden Krust for almost two decades. On any given day she visits each store to ensure cashiers, servers and cooks are maintaining the high standard she expects thereby enhancing customer satisfaction.
The woman from the town of Linstead, St. Catherine, Jamaica, is the mom of two daughters, Anastasia, 8 and Shanelle, 29.
Jamaican theater & comedy is her favorite pastime. She enjoys vintage videos of Miss Lou and patronizes live performances of plays from Jamaica when they are staged in New York. She will be honored for her dedication and contributions to the community by Oliver Samuels and the cast of 56 East Avenue on Sunday, May 26, at Lovinger Theater, Bronx.
Helenia Witty
Special Honoree
One Thursday afternoon in early April, Helenia Witty sat with a stern face supervising crates of Tower Isles halal patties, fresh from the oven and packed in boxes, loaded into tractor trailers on Atlantic Avenue, Brooklyn. Witty is the Shipping and Receiving Manager at Tower Isles frozen foods. Customers who purchase Tower Isles patties at Walmart, Costco, Sams and other wholesale and retail supermarkets can be assured that Helenia Witty meticulously observed the crating of boxes of patties of all varieties – chicken, veggie, beef, cocktail and halal.
Arriving in New York in 2007 from the Parish of Manchester in Jamaica where she graduated from Manchester Business College, Witty found employment at her sister and brother-in-law business, Beryl Joy and Earl Levi company. Joy and Earl established Tower Isles as a mom and pop bakery at Atlantic Avenue near Franklin in 1968 but by the time Witty joined the company, Tower Isles had already grown into the world's largest baker of Jamaican style patties.
Today, Helenia is dedicated to Tower Isles as her late sister and brother-in-law. She is at the plant at 4am and is one of the last to leave at the end of day.
As a patron of Jamaican arts and culture, she makes time to attend various Jamaican events and enjoys Jamaican-style theater especially the Oliver Samuels brand.
Ms. Witty will be presented a citation from Oliver Samuels and EVERYBODY'S on Friday, May 24, Milton Bassin Performing Arts Center, York College, at the performance of 56 East Avenue.