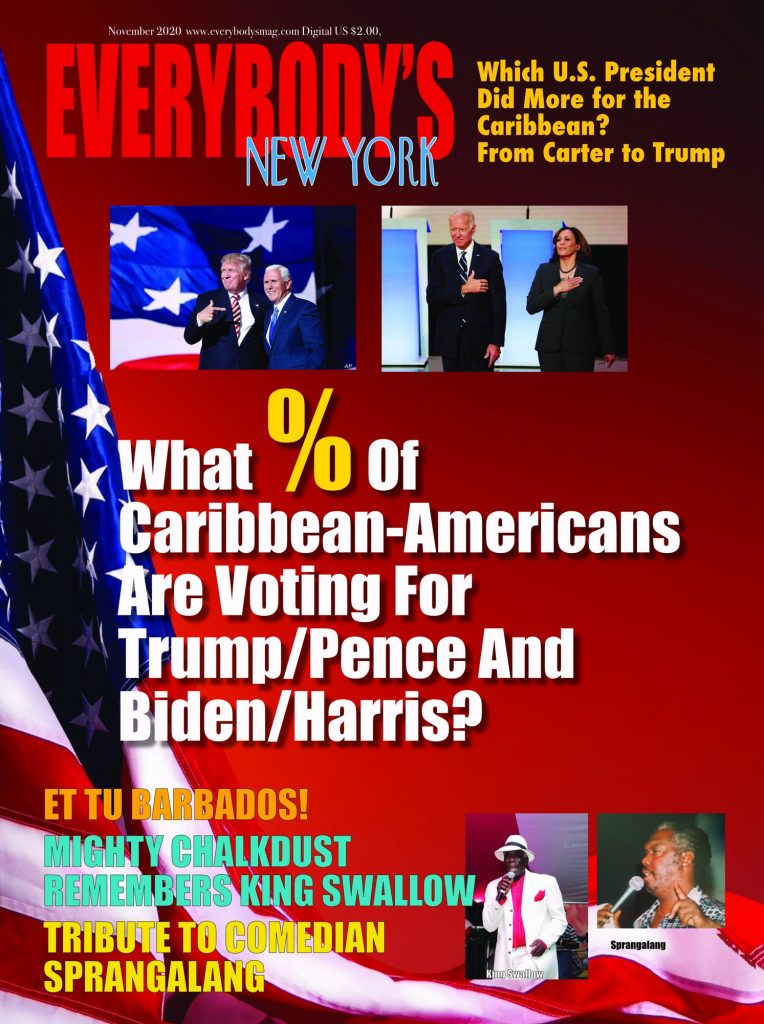 EVERYBODY'S Presidential Survey of Caribbean-American Voters
The American presidential election is not determined by the popular votes but by the candidate who wins the most states or garners 270 electoral votes. Therefore, Caribbean-American voters, as well as the overall black vote, can be the tipping point in the battleground and swing states of FL, PA, GA, OH and MI. See what percentage of Caribbean-Americans are likely to vote for the Trump/Pence ticket and Biden/Harris ticket in our November edition plus other features. Download it for a mere US$2.50.   https://everybodysmag.com/magazines/
Which Last Seven U.S. Presidents Did More for The Caribbean?
Be your own judge! November's issue lists the last seven (7) U.S. presidents from Jimmy Carter to Donald Trump. Which one created a direct economic package for the Anglophone Caribbean and a new immigrant policy for all undocumented immigrants? Carter, Reagan, H.W. Bush, Clinton, Bush 43, Obama or Trump. Why not download the November issue containing this unique article for US$2.50  

https://everybodysmag.com/magazines/
"Law and Order" In Donald Trump America by Roger Toussaint is a must read. The former Transit Workers Union President offers a provocative commentary about the murder of Breonna Taylor.

Well, the need to show respect for every man and woman was, however, again awakened in me when Antiguan Sir Rupert Philo (Swallow), a man in every sense of the word, went to heaven last Friday, for I recalled him telling me in the mid-1980s that it was a joy for him to sing to the Trinidad audience, since singing in Trinidad meant that he was mixing with the top calypsonians, and, ''Charkee bwoy, the Trini people does show me respect.'' Dr. Hollis Liverpool known worldwide as the calypsonian Chalkdust pays tribute to the Antigua calypso icon King Swallow.