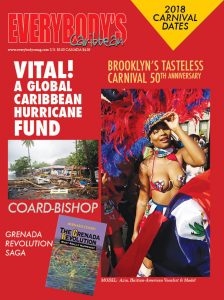 EVERYBODY'S, Oct., 2017 edition
A Global Caribbean Hurricane Fund is Essential
By Herman Hall
Late one Saturday afternoon in the autumn of 1981 or 1982, then Barbados Consul General in NY, Clyde Griffith, invited me to have "a few drinks and brainstorm with Prime Minister Tom Adams." It was just three of us and conversations were off-the-record as we chatted in Adams' hotel suite over drinks on all sorts of topics from President Ronald Reagan, Maurice Bishop and his People's Revolutionary Government in Grenada to Michael Jackson, West Indies cricket and Adams bachelor student days in London.
Since hurricanes in the Caribbean occur annually we talked about a potential Caribbean Hurricane Fund organized and administered by Caricom (Caribbean Community) to be created in the U.S. under the laws of the U.S. similar to how American Jews and American Jewish organizations give to charities in Israel on their IRS income tax forms. As such under the Caribbean Hurricane Fund Caribbean people in the U.S. as well as any other person would be able to give from $1.00 or more annually when they file their IRS Form 1040.
In Caribbean parlance we were just "ole talking" but the idea stuck with me. In the months following our '81 or '82 conversation, Adams would be embroiled in a public battle with Grenada's Prime Minister Maurice Bishop and within six years Adams would suddenly die during a Barbados Parliament luncheon recess. Evidently he did not get the time to share the idea with Caricom.
2017 may be the worse hurricane season in Caribbean and U.S. recorded history. As global warming increases and both sea and land gets warmer, it is possible that hurricanes will even be more numerous and powerful. And, it may well be just a matter of time before a volcano or earthquake erupts in the Caribbean Sea creating a massive tsunami.
As in the past, and even more urgently now, funds are needed but with the U.S. having its own share of frequent hurricane disasters U.S. emergency aid to the Caribbean is dwindling. Hence the region has to formulate creative methods of helping itself financially.
The Caribbean has superb hurricane, earthquake and volcano tracking and warning devices. Its scientists are on the top of their projects. Nationals are warned and have time to prepare for approaching hurricanes.  That's excellent.
And, governments have developed effective communication systems and organizational structures to go into a hurricane emergency mode at a moment's notice. Many more lives would have been lost in 2017 on Barbuda, Saint Martin, Cuba and other islands when Irma, Jose, Harvey, Lee and Maria visited if the Caribbean Disaster Emergency Management Agency (CDEMA) and Caribbean Meteorological Organization (CMO) were not efficient.
What the Caribbean does not have is a major regional mechanism to raise funds to be used in times of hurricanes and other natural disasters.
Although in 1981 or 1982 Tom Adams, Clyde Griffith and I were daydreaming when we chatted about a Caribbean Hurricane Fund but in light of what is happening in the 21st century, were we?
Creating a Caribbean Hurricane Fund will take years to implement and no Caribbean state can do it by itself. It has to be a regional and international project led by Caricom and sanctioned by regional leaders to approach governments of the U.S., Canada, UK and several former colonial powers in Europe such as France and Spain who still have vested interest in their former Caribbean colonies. Tax treaties will have to be created between Caricom on behalf of Caribbean nations with each North American and European country to encourage taxpayers to give as a tax deductible contribution within the framework of the law.
Most Caribbean expatriates and their offspring reside in the U.S., Canada and United Kingdom. They are in the millions. Imagine five million persons in the U.S. giving $1 each annually on their 1040s and five million each in Canada and UK. Within a short time there will be millions of dollars raised and invested for hurricane relief.
While regional technocrats will have to do the planning on behalf of Caricom heads of government, there are templates to copy or enhanced. There are legislation between several countries and the U.S. where U.S. citizens and residents are allowed to give tax deductible contributions through private and public foundations to governments and people in other countries under IRS guidelines. Here are examples:
Israeli Charities
"When it comes to qualified organizations for US tax purposes, IRS Publication 526 (last issued December 16, 2009) clarifies that most organizations must apply to the IRS for recognition. Publication 526 goes on to say this about Israeli charities: You may be able to deduct contributions to certain Israeli charitable organizations under an income-tax treaty with Israel … The deduction will be allowed in the amount that would be allowed if the organization was created under the laws of the United States … Consider contributing to recognized "Friends of Israeli Charity" institutions in the US, with a view to qualifying for a deduction for US purposes and a tax credit for Israeli tax purposes … under additional special rules in the US-Israel Tax Treaty."
Contributions to Canadian and U.S. Charities
  "Under Article XXI(5) of the U.S.-Canada Income Tax treaty, for U.S. tax purposes, contributions by a U.S. citizen or resident to a Canadian charity (treated as an exempt organization by Canada and eligible to be treated as a U.S. charity if it were located in the United States) are generally eligible for the charitable deduction …"
Contributions to French and U.S. Charities
"Under Article 10 of the U.S.-France Estate and Gift Tax Treaty, for U.S. tax purposes, contributions to a French charity completely devoted to charitable purposes are to be treated as if the French charity were a U.S. charity if contributions to a French charity would be fully tax-exempt in France, subject to the following conditions: the French charity must be organized exclusively for charitable purposes and the French charity must receive a substantial portion of its support from the public. The same rule applies for French tax purposes to contributions to U.S. charities. This means that the Treaty does not make the French charitable deduction available for contributions to U.S. private foundations."
Contributions to Swedish and U.S. Charities
"Under Article 8(7) of the U.S.-Sweden Estate and Gift Tax Treaty, for U.S. tax purposes, contributions to a Swedish charity completely devoted to charitable purposes are treated as if the Swedish charity were a U.S. charity if: (i) transfers to the Swedish charity would be fully tax-exempt in Sweden and (ii) the transfers would be tax-exempt in the United States if the Swedish charity were a U.S. charity. As with the German Treaty and unlike the French Treaty, it is not necessary that the Swedish charity meet a public support test unless such a test is imposed by Swedish law. The same rule applies for Swedish tax purposes to contributions to U.S. charities, which means that the Swedish charitable deduction is available for contributions by Swedish and U.S. "domiciliaries" to U.S. private foundations as well as U.S. public charities if consistent with Swedish law."
U.S. PRIVATE FOUNDATIONS AND FOREIGN ACTIVITIES
"In addition to making contributions to domestic public charities and certain other authorized domestic recipients, may also make grants for exclusively charitable purposes to foreign governments, international organizations and foreign public charities."
Individuals
"The rules regarding individual charitable donors differ depending on whether the donor is a U.S. citizen, U.S. permanent resident, U.S. "days" resident, U.S. domiciliary, or a person of foreign citizenship who does not qualify as a U.S. resident or U.S. domiciliary in any sense ("nonresident alien".)"
Private Foundations
"Private foundations are organizations fully dedicated to charitable purposes but which generally do not receive broad support from the public. Private foundations are generally subject to detailed statutory restrictions on their activities including limitations on holdings in any one business entity, prohibitions against investments that might "jeopardize" the capital of the foundation, and prohibitions against transactions between the foundation and its major contributors, directors and managers. See§4941 and §§4943-4945. Most  private foundations are required to pay out certain minimum amounts each year to qualifying doneness, which may include: (1) U.S. governmental units for charitable purposes, (2) domestic public charities, (3) exempt operating foundations, (4) foreign governments grants to which are used exclusively for charitable purposes, (5) international organizations, grants to which are used exclusively for charitable purposes, and (6) foreign public charities."
Based on existing tax treaties between the U.S. and several countries there is no reason why Caricom should not create a tax treaty with the U.S. to establish a Caribbean Hurricane Fund. A similar hurricane tax treaty can be arranged between Caricom and Canada; between Caricom and the UK and between Caricom and several European countries. To do that Caribbean states will have to decree that Caricom is representing them.