Order your 2018 Global Caribbean Calendar
The 2018 Global Caribbean gives
Major events, Independence Day and public holidays in most Caribbean states.

2017 in Review

EVERYBODY'S Person of the Year for 2017
To order click print version of the calendar
$3.25
*plus $3.00 for Shipping
To order click digital version of the calendar
$2.25
*You will receive a download link by email once payment is processed successfully.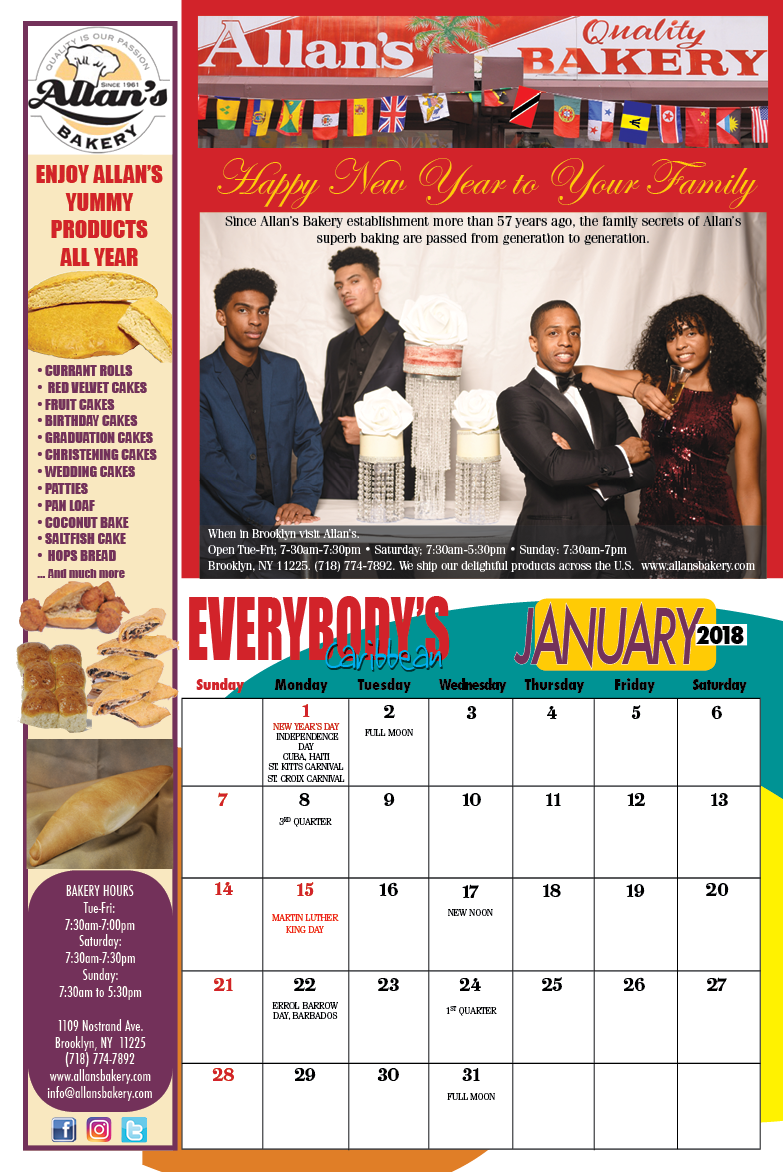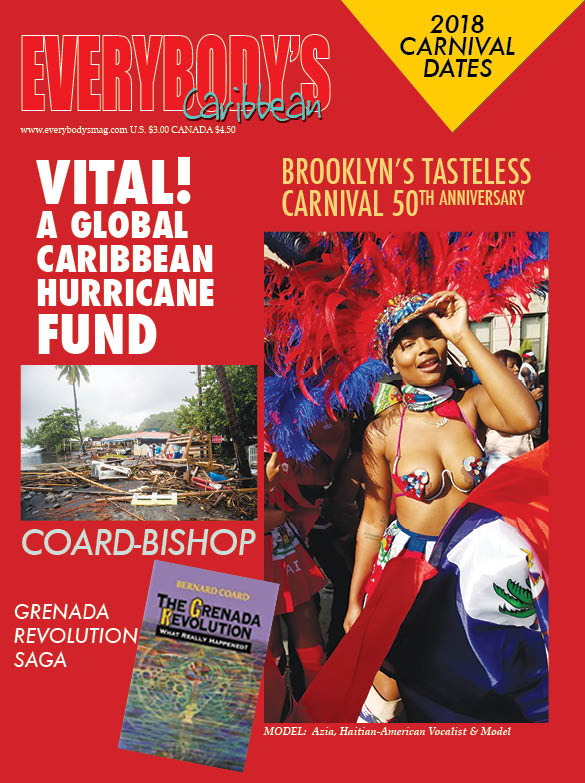 In this edition

A GLOBAL CARIBBEAN FUND IS VITAL:  This provocative article states that: With the U.S. having its own share of hurricanes and with donor nations who once gave to the Caribbean generously in times of natural disasters having problems with their economies, money is scarce.  Caribbean leaders have to  create a global hurricane fund. Caribbean people and other tax payers in North America and Europe can give $1 or more as a tax deductible contribution when they file their annual taxes.
"Late one Saturday afternoon in the autumn of 1981 or 1982, then Barbados Consul General in NY, Clyde Griffith, invited me to have "a few drinks and brainstorm with Prime Minister Tom Adams." It was just three of us and conversations were off-the-record as we chatted in Adams' hotel suite over drinks on all sorts of topics from President Ronald Reagan, Maurice Bishop and his People's Revolutionary Government in Grenada to Michael Jackson, West Indies cricket and Adams bachelor student days in London. Since hurricanes in the Caribbean occur annually we talked about a potential Caribbean Hurricane Fund organized and administered by Caricom (Caribbean Community) to be created in the U.S. under the laws of the U.S. similar to how American Jews and American Jewish organizations give to charities in Israel on their IRS income tax forms. As such under the Caribbean Hurricane Fund Caribbean people in the U.S. as well as any other person would be able to give from $1.00 or more annually when they file their IRS Form 1040."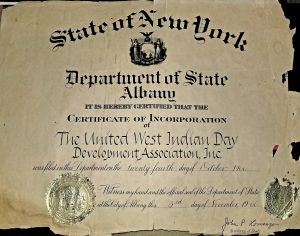 50 YEARS OF BROOKLYN'S CARNIVAL: It was the rise of Brooklyn's Caribbean carnival that brought awareness of the contributions of Caribbean immigrants in the U.S. The article criticizes the manner in which the carnival organizer, West Indian-American Day Carnival  Association, celebrated the 50th.
"One of the goals of Gorin's UWIDDA was involving people from various islands and African-Americans in the carnival organization. It is good to know that William Howard is the present leader of Brooklyn's Carnival; he was involved since the early 1970s. Yet, on the 50th anniversary of Brooklyn's Carnival Mr. Howard couldn't find the courage to recognize former members such as Jamaican Gerald Spence who funded the carnival each year, Jamaican Lester Isaacs UWIDDA' first chairman, Guyanese Milton Jones, Grenadians Harold Belfon and Wilfred Thomas and Trinbagonians James Peters, Archie & Marie Austin, Desmond Worrell and Caldera Caraballo."
2018 CARNIVAL DATES WORLDWIDE: A listing of all Caribbean Carnivals in 2018 from Caribana in Toronto to St. Vincent and the Grenadines carnival.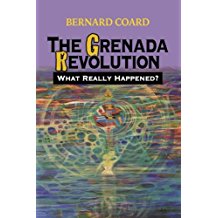 BERNARD COARD: The Grenada Revolution, What Really Happened: A comprehensive review of Coard's book. Bernard Coard is accused for the downfall of the Revolution. He and many colleagues were found guilty for the murder of Prime Minister Bishop and others. They remained in prison for over 20 years. Is Coard telling the truth of what really happened or is it Coard's version of what really happened?
" Since 1983, many books have been written and minutes of various committees of the BishopCoard led party, New Jewel Movement (NJM), and PRG read and evaluated. Grenada and the world always desired to get Coard's side of the tragedy directly from him. Although his book is subtitled, "What Really Happened" the reader should beware that The Grenada Revolution: What Really Happened is a deft compilation of Coard's recollection of events buttressed by selective use of 'sources' more aimed at mitigating the actions of the executioners of October 1983 than a dispassionate appraisal of what really happened. "What Really Happened" is filtered through the eyes of Coard. Other eyewitnesses and writers of the "Revo" may present different facts and evaluations as to really what happened between 1979 and 1983.The book is Coard's chronicle of events and his opinions; some information and conclusions are debatable."
Order the 2017 Global Caribbean Calendar & Person of the Year edition today and send it to friends and family as a Holiday Gift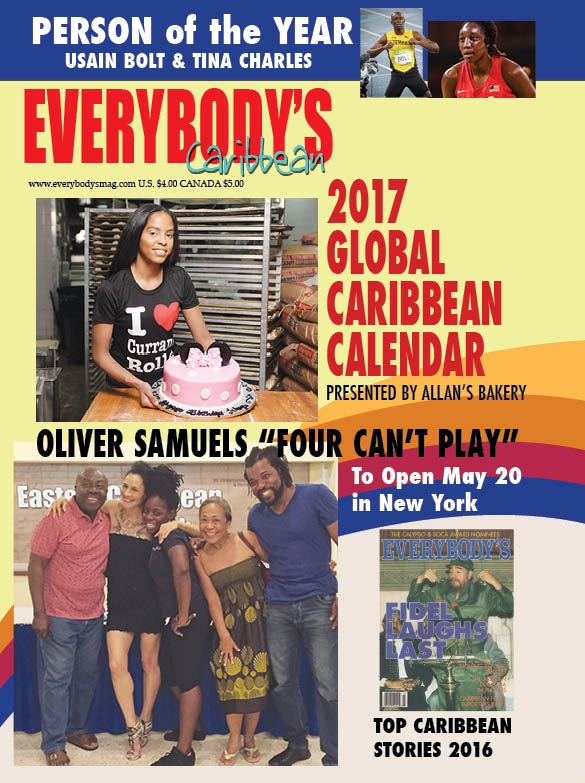 Person of the Year
*All major holidays and festivals in the region and overseas communities during 2017 are listed.
*The top 2016 Caribbean news highlights are in the year ending issue.

Our 38th annual Carnival Edition features Kayla Williams from the D'Midas band
Scenes from the first carnival on Eastern Parkway, Brooklyn, NY, Labor Day 1971.
Scenes from the West Indies Carnival Parade in Harlem, NY on Labor Day Saturday of 1950.
Scenes from planning Brooklyn Carnival 1973 with key members.
Scenes from Brooklyn Carnival Prize Giving Day of 1975 with Rufus Gorin and Carlos Lezama and Herman Hall who was then a member of WIADA.
The cover of the 1972 Carnival Journal. It was designed by Terry Evelyn.
Features include: Make New York Carnival Great Again by Herman Hall
Early Carnival on Labor Day in Brooklyn by Wilfred J. Thomas
2017 Global Caribbean Carnival Dates
SCENES FROM WEST INDIES PARADE, HARLEM, NY LABOR DAY SATURDAY, 1950