Shelly-Ann Fraser-Pryce
EVERYBODY'S PERSON OF THE YEAR 2019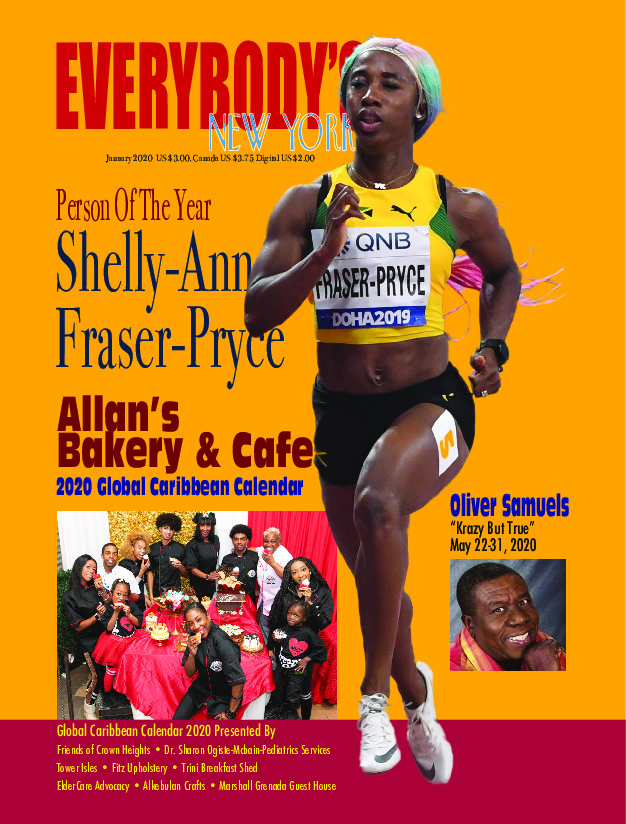 Shelly-Ann Fraser-Pryce of Jamaica, one of the greatest female sprinters of all times, is the 2019 EVERYBODY'S, the Caribbean-American magazine, Person of the Year. Established in January 1977 and beginning in 1978, the magazine has presented its Person of the Year annually.
"I suggest Shelly-Ann Fraser-Pryce, mother, sprinter and Jamaican Olympian. At age 32, Ms. Fraser-Pryce did the improbable; she won her fourth IAAF World Championship title in the 100meter dash after having a child.  Not only is she a worthy competitor, she gives back to the community where she grew up.  She is humble and has a beautiful spirit and a strong mind," wrote an EVERYBODY'S "Caribbean" magazine reader.
The Person of the Year for 2019 is included in EVERYBODY'S 2020 Global Caribbean Calendar. To obtain the edition click "MAGAZINE & CALENDAR."
Fraser-Pryce validated her undisputed track and field greatness at the 2019  World Athletics Championships held in Doha, Qatar. NBC Sports stated, "Shelly-Ann Fraser-Pryce of Jamaica becomes the first mom to win an Olympic or world 100m title since Gwen Torrence in 1995 and the oldest woman ever to win an Olympic or world 100m title at 32 years old."
CNN said, "Shelly-Ann Fraser-Pryce further staked her claim as one of the greatest female sprinters of all time by storming to victory in the women's 100 meters final at the World Championships in Doha."
As a teenager, she attracted regional attention at the 2002 Central American and Caribbean Junior Championships (Under-17) held in Barbados when her 4x100m relay team won. In Trinidad & Tobago at the 2005 CARIFTA Games (Under-20), her 4x100m relay team emerged victorious and she placed 3rd in the 100m.
The 2007 World Championships in Japan brought Fraser-Pryce to world attention when her 4x100m relay team placed 2nd. She emerged a champion in her own right at the 2008 Olympics held in China when she won the 100m. That year was historic for Jamaica and the Caribbean because Fraser-Pryce and Usain Bolt brought the prestigious 100m gold medals to the region.
Fraser-Pryce success continued in Germany at the 2009 World Championships where she placed first in the 100m and 4x100m. Nobody was surprised when she won the gold medal at the 2012 Olympics held in England and silver in the 200m and 4x100m.
What a massive year for Fraser-Pryce in 2013! At the Russia World Championships, she placed first in her three specialties – 100m, 200m and 4x100m.
Fraser-Pryce is the only sprinter, male or female, to win the 100m World Championships four times – 2009, 2013, 2015 and 2019.
Her medal count is listed at www.everybodysmag.com.
After winning the women's 100m final in 2019, Fraser-Pryce told the world, "My secret is just staying humble and just know who you are as a person and athlete and just continue to work hard," where she was joined on the track by Zyon. "It's a wonderful feeling having my son witnessing this."
During her almost entire life in track and field she found time to marry her teenage sweetheart, Jason, and gave him bouncing baby boy, Zyon, born on August 7, 2017, one day after Jamaica independence date, August 6. She is a graduate of Jamaica's University of Technology and the University of the West Indies.
We at EVERYBODY'S have observed the modesty, eloquence and optimism exhibited by Mrs. Fraser-Pryce at civic events in New York City. She is a role model for young people in Jamaica, the wider Caribbean and around the globe.
Suggestions for the 2019 EVERYBODY'S Magazine Person of the Year were exceptional. Men were nominated but it was the first time our readers, fans of the magazine's theatrical and concert productions, placed three women on top the Person of the Year list. The other two – Barbados Prime Minister Mia Barrow and Calypso Rose, EVERYBODY'S 1978 Person of the Year. "My choice is Calypso Rose because she has endured and survived breast cancer about 3 or 4 times; she is an extension of the whole Caribbean with her calypso and soca. She still travels to foreign lands to perform and showcase the soca/calypso. She tours France every summer," wrote J. Mayers of St. Vincent and the Grenadines.
EVERYBODY'S Magazine Person of the Year include Usain Bolt, Olympian, Hurricane Irma and Hurricane Maria (phenomenon), Jumaane Williams, New York City Public Advocate, Prime Minister Baldwin Spencer, Clive Lloyd, West Indies cricket captain and The Mighty Sparrow, Calypsonian – the late Congresspersons Shirley Chisholm and Mervyn Dymally, Sir Arthur Lewis, Nobel Laureate, Prime Ministers Eugenia Charles, Tom Adams, Edward Seaga, Herbert Blaize and Patrick Manning.