In our May edition  …   

Read Entire issue at no cost
COVID-19: A Special Feature — Commentaries by Felix Martin, Collis DeCoteau, Herman Hall and Commemorative images by Leonard McKenzie
Caribbean Frontline Soldiers in the Pandemic Wars

by Martin Felix with hyperlinks is also listed in Word at bottom of page
Census Deadline Extended:

Why the Census is important especially for Immigrants, Blacks and Hispanics
 

by Wendy Gomez
The State of New York City Immigrants:

50% of NYC Frontline Workers are Immigrants Summarized By Rosa Edwards
Read Entire issue at no cost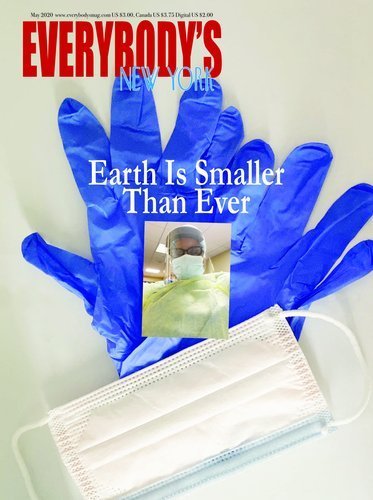 Caribbean Frontline Soldiers in the Pandemic Wars
By Martin P. Felix
The biblical parable of the stone that the builder refused is quite applicable in the present Corvid-19 crisis in regards to Caribbean immigrants. It is a cruel paradox that in a moment of xenophobia and anti-immigrant sentiments stroked from Washington, D.C. and London, immigrants are proverbial frontline soldiers engaged in the pandemic wars.
Caribbean immigrants and their counterparts from around the world have historically been the backbone of the health service industry in the United States of America, Canada, and the United Kingdom. In the US, people from the Caribbean and Latin American are second only to Asians (with upwards of 34 percent) as the leading region of birth of foreign-born workers employed in health. And according to the Washing-based Migration Policy Institute, one in ten nursing, psychiatric and home health aides are Caribbean and Central America-born.
Many of these workers are women and at greater risk than the general population, providing medical care, deep cleaning buildings, and delivering food and groceries to our front doors. These health care workers are also more likely to work in direct care, in low wage jobs, and are more likely to have lower access to health insurance. But the share of the immigrant health care workforce is highest in both the highly skilled, such as physicians and surgeons, and least skilled workforce such as nursing, psychiatric, and home health aides.
This reality is as true in US cities as it is in other centers, such as London and Toronto where Caribbean immigrants have settled for decades, as part of the Caribbean's health-care brain drain. In the UK, the so-called "Windrush Generation" – West Indians migrants who were primarily recruited there in the post-WW2 era in part to help fill the huge labor shortage in the National Health Service – have likewise created a legacy of distinguished representation in the health sector in London and other UK cities. Ironically, with the recent heightened nativist trend in British politics, many currently face denial of health care, racist harassment, violations of their civil rights, housing and employment discrimination, and even deportation.
Global projections indicate that the worst is yet to come. The numbers are growing exponentially, especially in the USA and the UK. High Caribbean concentration NYC zip codes are coincidentally heavily impacted by the COVID-19 crisis, according to the NYC Department of Health data. NYC Mayor Bill de Blasio is on record pointing out that NYC's communities of color are hit the hardest, citing data that the largest percentage of deaths in the city is among Hispanics and African-Americans. Many of these districts have test positive rates of above 50% percent.
Expressions of gratitude are being posted around hospitals recognizing the sacrifices of health care providers on the frontline in hospitals, adult care centers, drivers of emergency vehicles, etc. But we should also not forget that these workers are part of families that are also affected by the crisis. After their extended hours, many health care workers go home to their anxiety-stricken families in social isolation. Their geographically extended families are also on their minds. The COVID-19 pandemic has now spread to every country in the Caribbean region, with Anguilla becoming the last country to confirm a case on March 26.
Like the frontline position that Caribbean health care professional workers are faced with, the Caribbean nation of Cuba has readily heeded the call of countries around the world with its 'army of white coats'. According to Monthly Review Press, 45 countries have asked Cuba for support in the face of the COVID-19 epidemic, bringing to mind Bob Marley's biblical borrowing that the stone that the builder refused will always be the head "corner stone". 
Dr. Melissa Barber, a Cuban-trained medical doctor mobilizing to combat the pandemic in the South Bronx, points to the existence of health and education as fundamental rights guaranteed in Cuba's Constitution as the logical extension of the country's now famous internationalism in healthcare relief and training. She points out that, in this sense, Cuba believes it is its brother and sister's keeper.
Unfortunately, a necessary casualty of this growing crisis is the reality that carnivals, home and abroad, as well as many upcoming music festivals, and the sleuth of 2020 sporting events are already slated to be postponed until at least 2021. The importance of these events is not superficial frolic or a series of competitive feats. Carnivals, for example, have always had functional, healing, and rejuvenating roles in our societies.
Moments like these are precisely when events such as the annual Caribbean carnival are necessary more than ever. Such releases of pent-up stress, frustration, and energy have been recognized by behavior scientists as mass therapy. Even on an individual level, there are currently quite a few news stories highlighting the power of Caribbean music in coming to terms with COVID-19. For example, there is a story of a mother and daughter comforting a dying dad with Bob Marley's "Three Little Birds."
As we wrestle with this devastating crisis at home and throughout their diaspora, the head cornerstone of our indigenous culture should not be relegated to the fabled stone that the builder refused. In fact, it is precisely at this moment that Caribbean culture and the arts should be appreciated more than ever.
The following may be of good therapeutic value if delivered in liberal portions:
Sparrow's "Man Will Survive", Jimmy Cliff's, "Many Rivers to Cross" and "Sitting in Limbo", King Austin's, "Progress", King Short Shirt's, "We are Human", Rita Marley's "My Kind of War" and Peter Tosh's, "Pick Myself Up".
Please remain safe!
Martin P. Felix is a visual artist and educator living in New York City. He is co-editor of Big Drum Nation, a Caribbean journal of arts and culture.