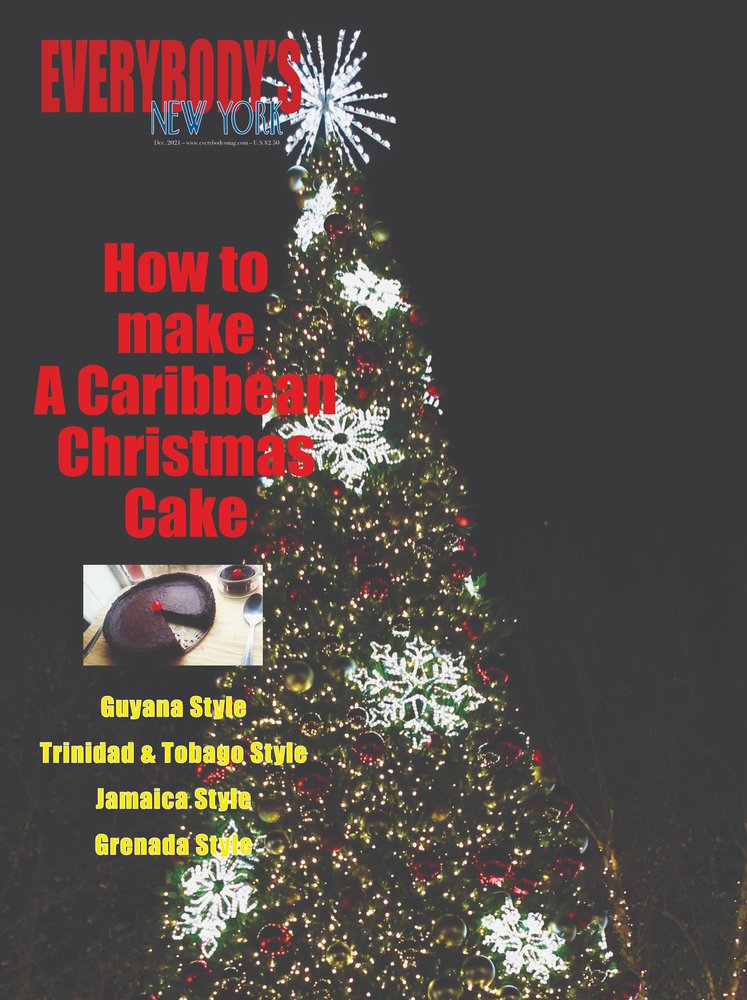 THAT WEST INDIAN CHRISTMAS CAKE
For families residing in the Anglophone Caribbean and abroad, serving black cake on Christmas Day is like Americans serving freshly baked turkey on Thanksgiving Day. Back in the day when most Caribbean people couldn't afford indoor ovens and stoves, the aroma of Christmas cakes filled the air as mothers and daughters baked their holiday cake and bread in homemade stoves outside the house.
Like salted fish, mainly imported from New England to feed the enslaved during the 18th and 19th centuries, now a popular Caribbean favorite, English puddings and Scottish fruit cakes were introduced to the West Indies by slave masters and their families.
Over the centuries, Anglophone Caribbeans have added various spices and rums to create what is popularly known as a Caribbean Christmas cake or black cake.  The truth is, the so-called Caribbean Christmas cake is baked all year-round for festive occasions – weddings, christenings, birthdays and graduations. What's the difference? Black cakes used for non-Christmas festivities have icing; there is no icing on Caribbean Christmas cakes.
Each former British Caribbean state makes its Christmas cake slightly different from another island. Then people living in one part of an island and Guyana may make their Christmas cake with a different twist from people in another part of the country. Grandma who lives in Christ Church, Barbados, Christmas cake may not have the exact texture as grandma's Christmas cake who lives in Bathsheba, Barbados.
Thanks to a different lifestyle and entrepreneurship, Christmas cakes are today available from commercial bakers across the Caribbean, NY, London, Toronto and other Caribbean diaspora cities and towns.  But you can pour a few drops of your favorite rum, wine or essence on the Christmas cake you purchased to impress family and friends that you made it. For the experienced Aunt Mary not to accuse you of falseness, just say you contributed in preparing the cake. You did pour rum, wine, and essence on it!
Grenada Christmas Cake
By Costline Sylvester Christopher
 1 bottle cake wine/Ruby wine (1750 ml)
½ lb. mixed peel
1 lb. butter
1 lb. white sugar
1 lb. flour
9 eggs
4 teaspoon baking powder
½ cup browning or 1 cup brown sugar
1 teaspoon Grenada nutmeg
1 teaspoon Grenada cinnamon powder
1 teaspoon Grenada vanilla essence
4 cups of blended fruits
1 small lime or lemon, zested
Blend all fruits together with the bottle of cake wine and sorrel rum. You may leave it in a covered container to marinate for two or three weeks or more.
On baking day mix butter and white sugar in a cake mixer until creamy.
Add one egg at a time.
Add lime or lemon zest.
Add mixed fruit puree and vanilla into the butter and sugar batter.
Add the dry ingredient flour, baking powder, cinnamon, nutmeg into the batter and mix well.
Oven 350 degrees
Place mixture into baking pans; place into oven until baked; approximately 45 minutes.
Guyana Christmas Cake
½ lb. butter, softened
1 cup sugar
2 tablespoons browning sugar to help darken cake tablespoons browning sauce (help to darken the cake, especially if you don't use dark rum. Optional)
1 ½ cups all-purpose flour
½ teaspoon salt
4 large eggs
1 cup dark rum
¼ lb. mixed peel
¼ lb. cherries
¼ lb. nuts of your choice
½ lb. prune chopped
1 lb. raisins
1 freshly grated lemon
1 freshly grated lime
 *Preheat oven to 325°F; spray a nine-inch cake pan with nonstick cooking spray and set aside.
*In a mixing bowl, beat together the butter, sugar, vanilla and browning until soft and creamy.
*In a third bowl, beat the eggs with the rum.
*Add egg mixture to butter mixture and thoroughly combine, then stir in zest, fruit and nuts.
*Place in oven for approximately one hour.