FINAL RITES FOR LOWELL HAWTHORNE, GOLDEN KRUST FOUNDER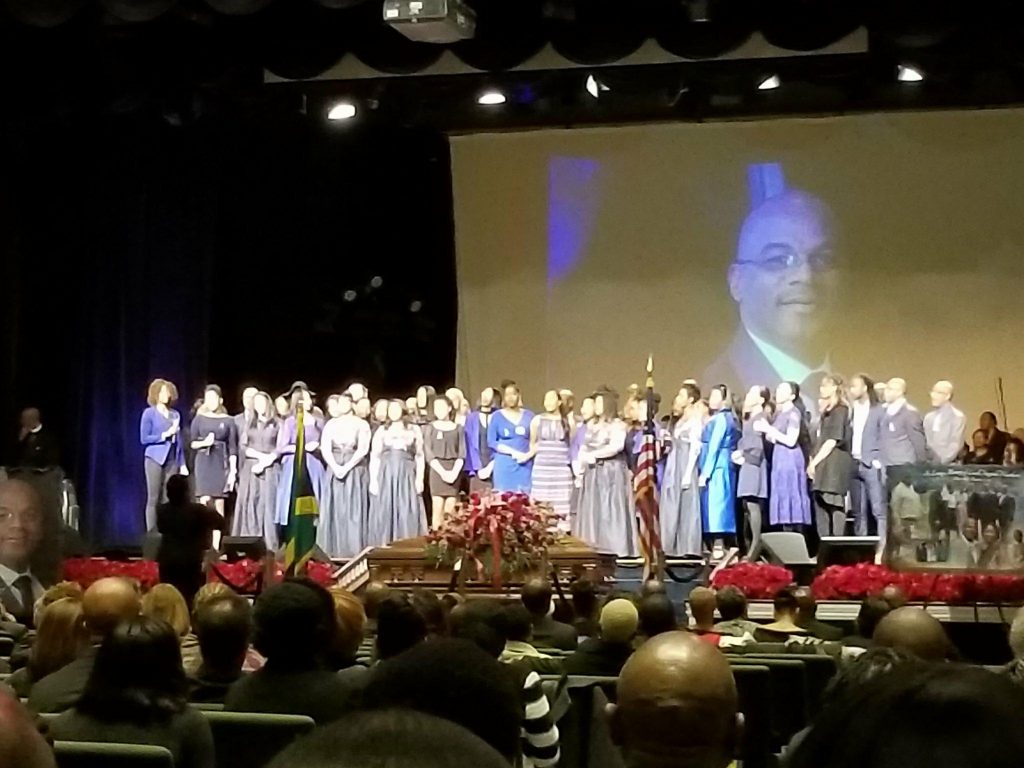 (Top photo): Some immediate family members at Christian Cultural Center on Tuesday
Brooklyn, Dec. 19:  Thousands of friends and admirers of Lowell Hawthorne (1960-2017) gathered at Brooklyn's mega church, Christian Cultural Center (CCC) to pay final respect to the Jamaican immigrant who created the patty franchise, Golden Krust, and provided employment to thousands of persons.
The body of Lowell Hawthorne was then taken to its final resting place, Valhalla, a town north of New York City, located in Westchester County.
On Monday evening in Mount Vernon, NY, a suburb just outside New York City, Grace Baptist Church was packed with mourners; hundreds more stood in front the church and on the street at Hawthorne's wake. Hawthorne worshiped frequently at this church. Many more mourners were anticipated at the funeral in Brooklyn on Tuesday morning.
As early as 6:30am, friends and customers of Lowell Hawthorne, arrived at the 4,800-seating capacity Christian Cultural Center to view his body and pay their final respect.
The body, escorted by family members, arrived from the Bronx, NY around 8am but only family members and Golden Krust franchisees and staff were allowed inside the church. The Hawthorne family clan is very large consisting of 11 siblings. With almost each sibling having their own children, the immediate family is indeed large.
Near 10am the two large doors in the south part of the church were opened for the public to enter; many waited in the chilly morning for hours.
Officiating ministers were Rev. A.R. Bernard who founded the CCC and TV evangelist; Rev. Leroy Richards, Pastor Sam Vassel of Bronx Bethany Chapel and Dr. Eric Wendell Lee.
Pastor Vincent Clarke who lives and preaches in Jamaica and brother-in-law of Lowell Hawthorne said that a mere a few weeks ago while visiting New York City, Lowell brought him to worship at CCC. So impressed Clarke, by the mega church and large congregation, he told Lowell that one day he hoped to stand on the alter to deliver a sermon not knowing that only a few weeks later he would be standing there unfortunately to participate in the funeral ceremony of Lowell.
Speaker after speaker spoke of Lowell Hawthorne's love for family, his acceptance of Christ as his Lord and Savior, and his willingness to give hundreds of scholarships to young people in the U.S. and Jamaica.
Although the family and officiating ministers tried to make the funeral service upbeat through inspiring tributes and joyous singing by the Bronx Bethany Chapel & First Community Chancel Choir and the CCC Choir, many were still tearful.
———————————————————————————————————————————————————————————————————-
MY (HERMAN HALL) FINAL TRIBUTE TO LOWELL
Lowell Fitzgerald Hawthorne, O.D., C.D., DLITT (honorary), LLD (honorary).
"Like thousands of Lowell's friends, my heart is broken, I'm still in disbelief and will be asking why for a very longtime.
"In the early 90s when I began presenting Oliver Samuels in the Bronx, I frequently stood near the subway on Gun Hill Road opposite Golden Krust Bakery. I don't think the name Golden Krust was even posted on the outside. To me it was just another Caribbean bakery, this one catering for Jamaicans. But, there was something about that bakery that caught my attention. Everyone seemed to be motivated and pleasant. Every morning the sidewalk directly in front the bakery was used to store crates of products.
"A few years later when Lowell and I met, we were surprised at each other. I was surprised that he knew so much about me, was a loyal reader of EVERYBODY'S Magazine and thought I'm Trinidadian not Grenadian. He was surprised that EVERYBODY'S Magazine never solicited him for advertisements and wondered why.
"I am pleased that Lowell had a great respect for me and appreciated my work. He would often reply to email blasts or send me a comment about an article in EVERYBODY'S or kid me about my Polar Bear plunge each January 1 in Coney Island.
"I truly admired Lowell for his love for family. On the 20th anniversary of Golden Krust, I stood in that hot and humid Saturday on East Gun Hill Road in the Bronx as Lowell introduced his frail dad he brought up from Jamaica to witness the historic event. I stood there as Lowell outlined his vision to create 1,000 Golden Krust Franchises. His short life only allowed him to establish 120. Yet 120 is no small achievement; it's massive.
"This year, 2017, we ran into each other a few times. In mid-May, Lowell, his two principal competitors in the patty industry, Vincent Ho Sang of Royal Caribbean Bakery and Caribbean Foods Delight and Patrick Jolly of Tower Isles, together with Pastor Sam Vassel of Bronx Bethany and community leaders such as Irwine Clare gathered at a Jamaican restaurant in the Bronx to pay tribute to a Jamaican music icon of the 1940s-1960s, the late Jah Jerry. In his remarks, Lowell spoke of his deep faith and his grand plans to enhance education of the youth. We chatted at length about my book.
"About two weeks later, May 28, 2017, Lowell excitingly ran to me at the end of Oliver's play, Lovinger Theater at Lehman College in the Bronx, to tell me how much he loved the play. You see, Lowell was not a big Oliver fan but his wife, Lorna, is; they frequently came to see Oliver plays. I had no idea that Lowell had just enjoyed his last Oliver play and he will not be with us in 2018.
"I also had no reason to believe that our interview arranged for some time over this holiday season to chat about a book I'm writing of which he is included will never occur. However, one can be assured that Lowell Hawthorne will be included if I publish it.
"At the end of Funeral at CCC, a TV commentator asked what I will remember most about Lowell. My answer was simply.
"(1) His love for family and deep faith in God (2) the employment opportunities he provided for thousands through Golden Krust (3) His willingness to share his prosperity by giving hundreds of scholarships to our young people through the Mavis and Ephraim Hawthorne Foundation. He believed in education. He once said 'Education gives hope and opportunity to the hopeless.' (4)  He never abused the honorary degrees and others titles bestowed on him. (5) He was a Caribbean-American integration leader. True, Golden Krust is a Jamaican or Jamaican-American brand and Lowell was Jamaican at heart but Trinidadian, Barbadian, other West Indians and  African entrepreneurs were Golden Krust franchisees. For example, The Golden Krust in the World Trade Center vicinity in 2001 was owned by a Trinidadian."