Order Tickets
Brooklyn, NY – Brooklyn Center – Sat., May 20, 8PM
ORCHESTRA: $60 in advance
MEZZANINE: $55 in advance
$2.75 processing fee per ticket
Hyattsville, MD – Northwestern HS – Sun., May 21, 6pm
$42 in advance + $2.75 processing fee per ticket – $44.75
Queens, NY – York College – Friday, May 26, 8pm
$55 in advance  + $2.75 processing fee per ticket – $57.75
Poughkeepsie, NY – Family Center – Saturday, May 27, 8pm
$40 + $2.75 processing fee per ticket – $42.75
Bronx, NY – Lovinger Theater (Lehman College) – Memorial Sunday, May 28, 4PM
$55 in advance  – $2.75 processing fee per ticket – $57.75
4pm
SOLD OUT
Bronx, NY – Lovinger Theater (Lehman College) – Memorial Sunday, May 28, 8PM
$55 in advance – $2.75 processing fee per ticket – $57.75
8pm
(718) 941-1879 For more information
There are two shows on Memorial Sunday at Lehman College Lovinger Theater, 4pm and 8pm. Tickets are available directly from EVERYBODY'S "Caribbean" Magazine:  (718) 941-1879
"Four Can't Play" is Oliver's 2017 production; written by Basil Dawkins and directed by Douglas Prout and Toni Kay Dawkins. Starring Oliver Samuels with Ruth Ho Shing, Dennis Titus and Maylynne Lowe. "Four Can't Play" will be performed in the U.S. northeast in May and June.
CALL EVERYBODY'S MAGAZINE – HERMAN HALL FOR OTHER VENUES INFO
For dates and venues for performances in NJ, MA, PA, MD & DC call Herman Hall (718) 941-1879 or email him: [email protected]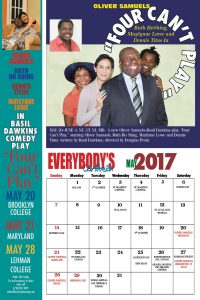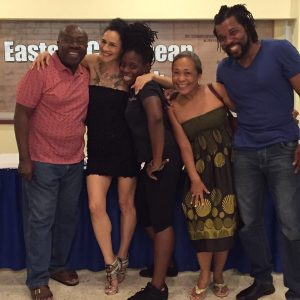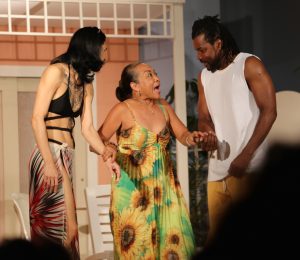 Playwright Basil Dawkins has presented a brilliant script and plot allowing Dennis Titus, Maylynne Lowe, Ruth Ho Shing and Oliver Samuels to provide fans with performances of sheer delight and constant laughter. And with the brilliance of stage manager Veronique Smith.